TV Show
Spider-Man: No Way Home – Trailer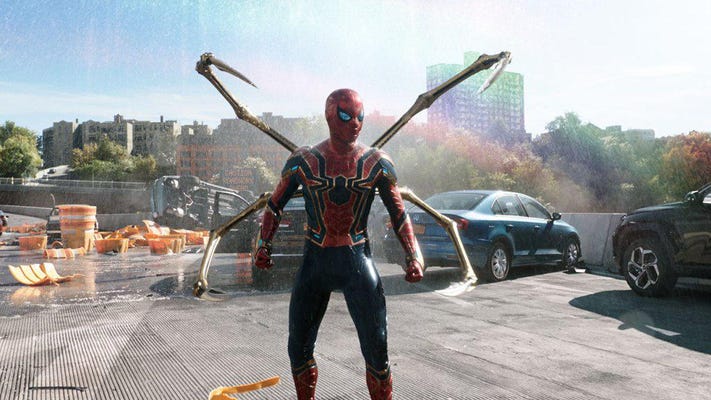 The much-hyped Spider-Man: No Way Home trailer and then treating the attendees to a full screening of Jason Reitman's Ghostbusters: Afterlife. The Spider-Man 3 version 2.0 teaser was immediately offered up online where folks got their first look at Jon Watts' direct sequel to Spider-Man: No Way Home.
As of now, it has notched around 225 million views in the first 15 hours. Benedict Cumberbatch's Doctor Strange remains at his best when he's expressing his disdain for his fellow MCU superheroes. Having him as "Peter's mentor" role this time (after Robert Downey Jr. in Homecoming and Samuel L. Jackson in Far from Home) is a fun choice. The film's multiverse-centric plot will feature prior characters from prior Spider-Man franchises showing up in the MCU, including Alfred Molina's Doctor Octavius from Sam Raimi's Spider-Man 2 and at least one Green Goblin.
Even more, the trailer offered two crucial pieces of information, one in terms of when it'll open and one of what's required to buy a ticket. Sony declared their fidelity to the big screen and theatrical windows, which makes sense as; A) they don't own a major streaming platform, B) their mega-bucks Netflix pay-tv window deal is predicated on theatrical movies still being of paramount value to streamers and C) Tom Rothman and friends are trying to position Sony as the last "major" old-school movie studio.
The trailer stated Spider-Man: No Way Home would exclusively stream in theaters "this Christmas," and "December 17." Tom Holland in 'Spider-Man: No Way Home' Sony. Though that's subject to change (Venom: Let There Be Carnage was supposed to open September 24 instead of October 15), the hope is that the Delta surge will have abated by Thanksgiving, leaving Ghostbusters: Afterlife (November 11) and Spider-Man 3 (December 17) sitting pretty. Aside from a promise that the film will open this Christmas "only in theaters," the entire trailer was structured as a reassurance of a different sort. The middle 66 seconds of the trailer, between the Sony logo at 0:58 and the "This Christmas" text at 2:04, details Peter Parker asking Stephen Strange to make everyone forget he's Spider-Man.
Why is 1/3 of the trailer made up of a single first-act expository/narrative beat one may ask? Well, that's because it affirms the events of Spider-Man: No Way Home will be predicated on. It's a reassurance that many be able to enjoy and understand this third Spider-Man movie even if you haven't watched the Disney+ television shows.
Hell, since the trailer details the post-credit cliffhanger from Spider-Man: Far from Home audiences don't even have to watch that flick to keep track. This goes to the notion that, contrary to popular belief, Marvel movies and Marvel television shows don't require you to have seen all of their respective installments to enjoy a given MCU show or film.
You can walk into any MCU flick with little-to-no knowledge of what came before. You don't have to see Civil War to enjoy Black Panther and you don't have to have seen Ant-Man to enjoy Captain Marvel. You don't really have to have seen Avengers: Age of Ultron to enjoy Captain America: Civil War. Heck, Iron Man 2 is not essential for Iron Man 3 and Thor: The Dark World isn't required viewing for Thor: Ragnarok.Benedict Cumberbatch stars as Doctor Strange and Tom Holland stars as Spider-Man/Peter Parker in Columbia Pictures' SPIDER-MAN: NO WAY HOME.
We trust you liked this article, please subscribe to our YouTube Channel for our videos and you can also be a part of our Facebook family.