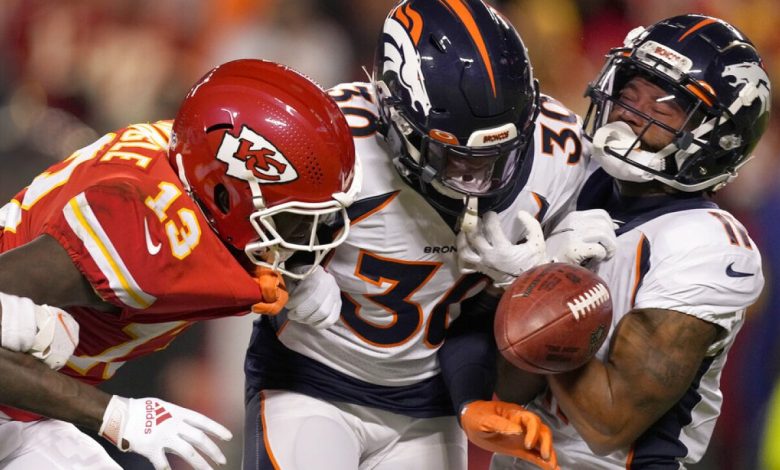 This December in Kansas City, at Arrowhead Stadium has been a memorial, the were great number of spectators both physically and on the live streaming on screens who witnessed the Chiefs in their last game over the weekend had lead over the Broncos with a total point of 22-9.
In Nashville, about 6 weeks ago precisely October 24th, the Chiefs were beaten by Tennessee Titans, out 27-3 dropping the Kansas City record to 3-4. But overwhelming that seemed to be their last loosing days, an currently secure an 8-4 record, inspite set backs for trams like Baltimore, Tenesse, Buffalo to mention a few. In my opinion, the chiefs have found a way to live up to their name.
Since Peyton Manning got quarterback, they actually have been 10 quarterbacks and The Broncos haven't been able to override the Chiefs . And wasn't about to change that. Other than rookie Javonte Williams —Teddy Bridgewater after Javonte Williams is the first rookie in Broncos' history to make 100 yards rushing and 75 yards receiving in a single game — a forgettable offense. Teddy completing 22 of 40 passes for 257 yards.
The Broncos may just be facing bad times, they had won the coin toss remember?And also following a script in Kansas City they collected one yard on their next five plays.
The Chiefs had accelerated on their first drive converting two third downs. After a second straight Broncos' three-and-out, the Chiefs' Harrison Butker slammed a wind-aided 56-yard field goal, creating a 10-point cushion.
Then somehow the Broncos finally sat up releasing a good play. Bridgewater connected with Jerry Jeudy for a 36-yard gain, raising Denver off the mat. The run game gained traction. With first-and-10 on the 14-yard line, the Broncos took two penalties, interference on Courtland Sutton and intentional grounding by Bridgewater.
What happened next was as more awestrucking than ridiculous. The Broncos rolled up their sleeves and went to work. They posted a 20-play, 11 minutes, 8 seconds drive, in-time and in about 20years they played one of the NFL's longest. Converting fourth downs of 2 and 7 yards.
The Bills now have a 7-4 record and trail the Patriots by a half-game in the AFC East. The Ravens and Titans both share same place with The Chiefs at 8-4. Though, in play for the chiefs are five games more as well as similar for the others, teams they happen to have lost to in various occasions. A huge game tie indeed, who will get the top seed?
"To move the ball all the way down the field and not score," Bridgewater said, "it just sucks, man."
The Broncos had ran 37 first-half plays to Kansas City's 27. They won time of possession, but that doesn't count in the standings.
Kansas City put Denver out of its misery with 9:42 remaining. On fourth-and-2 from the 27-yard line, the Broncos lined up three wide. Bridgewater attempted to tackle Daniel Sorenso but — he bounced off him.
A late fourth quarter touchdown, as a deserving prize was addedby Williams and at that point under Fangio, the Chiefs had outscored the Broncos 140-50. The Broncos are not eliminated from the postseason race. At 6-6, there's still hope, but will have to win four of their final five games.
We trust you liked this article, please subscribe to our YouTube Channel for our videos and you can also be a part of our Facebook family.