Smart glasses are a type of wearable technology that can display information, provide augmented reality experiences, and perform various other functions. In the world of Cyberpunk RED, smart glasses are likely to be even more advanced, featuring futuristic technologies such as neural interfaces and enhanced reality displays.
Features of Smart Glasses with Cyberpunk RED.
In the Cyberpunk RED roleplaying game, characters can use smart glasses to access a range of functions and features, such as:
AR Displays: Smart glasses can display augmented reality overlays on top of the real world, providing useful information such as maps, directions etc.
Facial Recognition: Smart glasses can use facial recognition technology to identify people and provide information about them.
Cyberware Integration: Smart glasses can integrate with a character's Cyberware, allowing them to control their cybernetic enhancements and receive real-time feedback on their status.
Neural Interface: Advanced smart glasses may include a neural interface, allowing characters to control their glasses with their thoughts and receive sensory feedback directly in their brains.
Communications: Smart glasses often include a built-in microphone and earpiece, allowing users to communicate with others through a variety of channels.
Video Recording/Photos: Smart glasses often include a built-in camera that can be used to record video or take photos.
How to install Smart Glasses Cyberpunk RED.
In the Cyberpunk RED rule book; there are two option slots for Cybereye options. Smart Glasses, when worn, give the user access to the benefits of these options. When you install the Cybereye options into the glasses, they usually count as if they were paired, and it costs the same as installing the option once in a Cybereye.
N/B: You can only wear a single pair at a time."
To install the Image Enhance Cybereye Option into Smart Glasses Cyberpunk RED, you have to install Image Enhance. Image Enhance requires two Cybereyes and must be paired.
This contrasts with actual Cybereye's, if an Option is marked in Cybereye, it requires two Cybereyes and must be paired, which means a player has to have at least two Cybereyes transplanted and has to purchase the Option in question twice on top of having the Option installed into at least two of their given transplanted Cybereyes.
How to add Cybereye options to Smart Glasses?
This depends on how many sets of smart glasses or battle gloves you intend to have. If it is just one set, you can just just equip it in your gear. To achieve this:
Expand a table at the top of the Cyberware window on the Cyberware tab.
Drop any Cyberware you want to attach to the gear there.
But if you have multiple smart glasses or battle gloves, equip them all and activate advanced mode on the gear Cyberware table.

Then go ahead to click the little brown button with lines to add a heading or two, give it a meaningful name, and then just drop the associated Cyberware into the table, then click the box until it's associated with the correct heading.
To unequip the smart glasses, just toggle the active state of the heading.
That's all you need to know about smart glasses Cyberpunk RED.
This article was first published on April 26 8:06 p.m. WAT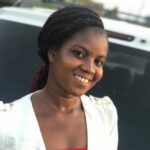 I am an experienced tech and innovation writer. It's been 2 years+ I started writing at Terecle, covering mostly Consumer electronics and Productivity. In my spare time, I enjoy reading and learning the latest happenings around the tech ecosystem.
Was this article helpful?