Asian series are just mainly dramatic works made in the continent of Asia not necessarily with Asian characters but at most an Asian setting. There are three major old Asian forms of Dramas we have, the Sanskrit, Chinese and Japanese. For this post, the one we are dealing on is the Chinese drama.
Summary
Produced by Shang Lee and it's original form as Poisonous Phoenix a.k.a The Fire Girl written by Xin Jing Ru Lan, The Only Girl You Haven't Seen is a story centered on the prime minister's daughter A Qi who is framed by the third prince Yan State, He Lian Chen. She is murdered because of this and thrown into the lake but strangely enough she does not die but completely takes the form of Leng Li, General Leng Shao of Yanguo's daughter who is in an arranged marriage with He Lian Xuan, the fifth prince of Yan State.
Living as Leng Li, she discovers that the fifth prince is not altogether bad, he is honest, loyal, gentle and kind to her. She falls in love with him because of his behaviors towards her but things do not come easy for them as they face challenges and difficulties together. Though they survived these hurdles together, Leng Li also comes to uncover another side to He Lian Xuan she did not know about.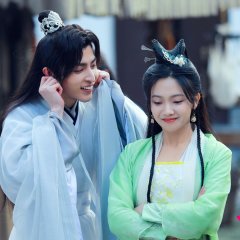 Will their love be able to withstand the test of time or will they give up on each other? Watch more on the following platforms to know more about it, YouTube and Drama Cool.
Cast
The following are cast in the Chinese drama; Wen Mo Yan acting as Leng Li, Wang Zu You as He Lian Xuan, Hou Dong as He Lian Chen, Jin Yang Yang as Yun Xuan/Yun Ji, Yu Yang Zi as Leng Shuangling, Han Dan as Qing Ying, Niu Zhi Qiang as Huang Di, Zhang Jing Tong as Liu Guifei, Xu Lei Zhi as Leng Shao and Wu Da Chui as He She.
Reviews
I would strongly recommend it as a must-watch drama because the storyline is intricately interwoven with each other. It is a well written script with interesting characters even with very short episodes but in all it is a good drama. I would say both the acting and chemistry between the protagonists are top-notch. It actually invests more on cute scenes rather angsty ones. Altogether, the story has been well thought and scripted to the satisfaction of others.
However, there is a major flaw that if it can be tackled will make a huge impact and difference in the story. It is so hard for non Chinese viewers to follow up as there is a messed up subtitle in most episodes and in some, there is absolutely none which makes it much more frustrating for viewers. Though the drama has the potential to be an epic drama, dark lighting and low budgeting might act as setbacks to the series.
Fun facts about the drama series:
The Only Girl You Haven't Seen was aired after the VIP grand-finale season 1 on April 28th, 2022.
On January 5th,2022, it was announced to have been completed in Xiangshan, Ningbo, China.
While the Boot ceremony was scheduled on December 8th, 2021.
Was this article helpful?