A security camera is designed to record videos and capture images both inside and outside the building, the aim is to protect the property around these areas. With the evolution of smart security technology various security appliances have been invented to optimize security.
The light socket security camera is one of such home security cameras made using the latest cutting-edge technology, repeatedly tested and proven to be a high resolution camera.
About light socket security camera
The light socket security camera comes with limitless innovations embedded in it, making the light socket security camera stand out among other conventional security systems. It has a higher resolution power that is capable of capturing quality and vivid images during the day as well as during the night; there is a full spectrum of color vision at night.
These cameras have the capability of being rotated to 360 angles; zooming in and out is also plausible. Interestingly, the light socket security camera can be connected to a mobile application using Wi-Fi, meaning you can access the camera via an app downloaded on your mobile device.
The physical outlook of these security cameras are very attractive, and stylish, with a modern physical appearance that can draw people's attention at a first glance; I too was 'wowed' when I first saw it.
With a height of 6 inches, a width of 2.7 inches, and a beautiful colour, the camera is a sight to behold. Above all, it is made of high-quality protective materials, one is assured of durability too. The camera is expected to last 20-30 years, at purchase you have a three-year warranty.
Why you should use a light socket security camera
The light socket security camera has a high camera quality covering a full spectrum of colours during the daytime as well as at night. Example, a crystal clear 1080P high-resolution light bulb camera can detect criminal activity and alerts you without cloud storage, batteries, adapters, or wiring. With the camera quality, it is easy to identify suspected individuals. Even the video quality of this security camera outperforms the video quality of conventional security cameras.
You can connect the light security camera with an APP via home Wi-Fi. Once this is connected, you can view your video recordings from anywhere in the world using your iOS/ANDROID powered device. You can plug the Light security camera into A/C outlets as well.
The light socket security cameras are very easy to install. In less than a minute, you are done. It is just as simple as replacing a light bulb. There is an easy-to-follow instruction manual with clear diagrams and simple language that makes it easy for users to understand the functionality of the light socket security camera.
Full-colour night vision is automatically turned on at night, allowing the transmission of high-quality video recordings. It has an automatic motion sensor capable of detecting movement and following objects until they are out of the camera's sight. Also this security camera sends a real-time alert to the connected device if any motion is detected making remote observations possible with the light socket security camera.
The light socket security cameras also features an alarm function, users can set an alarm to scare away unwanted persons; the alarm can be heard using the app.
There is a two-way audio feature that permits users to listen and talk through the camera to anyone in the home at any time from anywhere they are. Parents can monitor your kids at home who are taken care of by nannies, grandparents, and relatives.
You will find LED lights on this security camera, these lights light up the areas where motions are detected. You do not need batteries to power the light Socket security camera, it is powered solely by the light bulb socket or wall adapter for power.
So far people who have used the Light Socket security camera are very much pleased with the quality of the video recordings and images, and the high resolution that can capture suspected movements clearly at any time in the night.
The easy connectivity to a smartphone via an app is very much appreciated by users. People are attracted to its stylish outlook, the fact that it is lightweight, quite affordable, and delivers value for its price is part of what makes this security camera outstanding, attracting more people to purchase this security camera. Despite being a new innovation, the use of this device has been widespread across the globe.
Best Light Socket Security Camera
We took the time to review five of the best light socket security cameras; their features are great and can serve you well.
#1. Galayou 2K Light Bulb Security Cameras Wireless Outdoor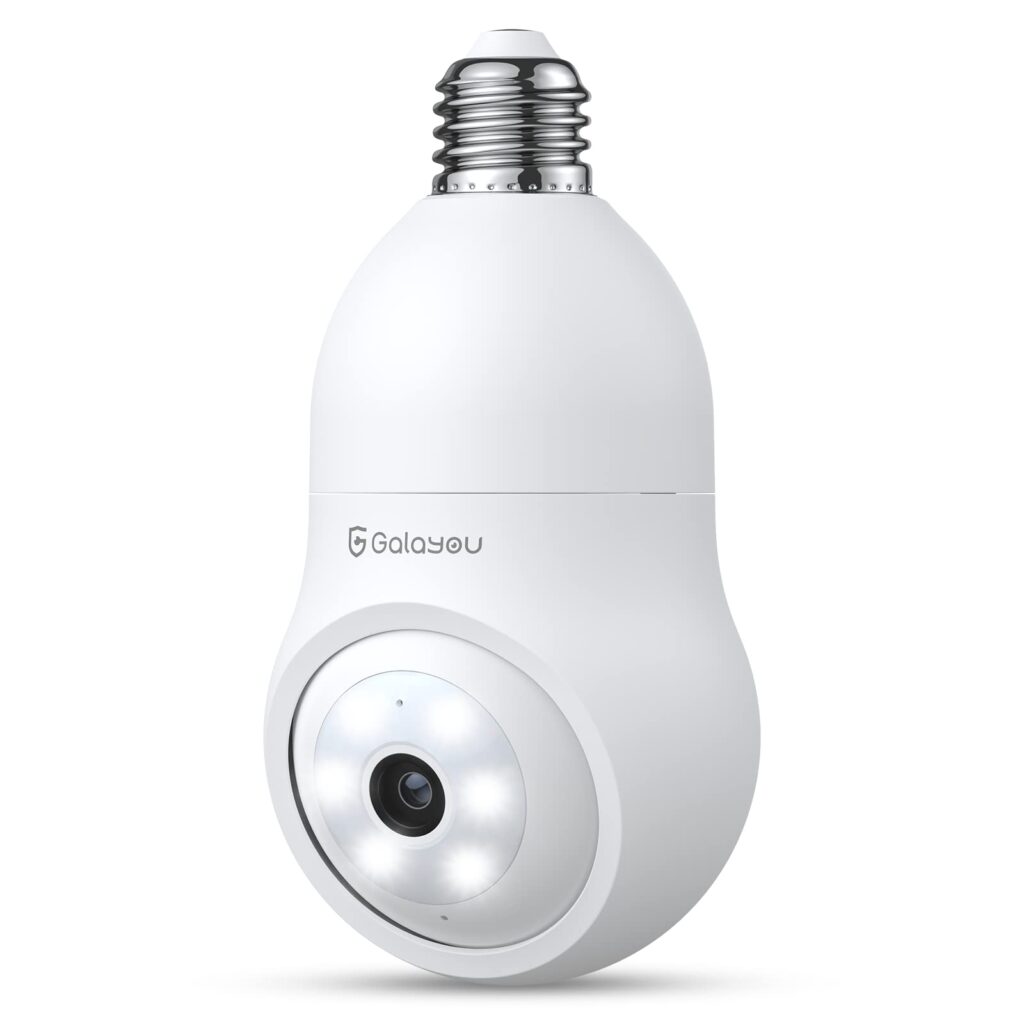 The Galayou 2K Light Bulb Camera has great features for an affordable price. It features 2K resolution which delivers clearer photos with more details than even cameras featuring a standard 1080p resolution. It also has floodlights and IR lights to enable it to see in all manner of lighting conditions. It has motion tracking and users can upload footage to a separate memory card or the cloud. This camera can be connected to Alexa and sends alerts directly to your mobile.
Very easy to set up, just screw it in and link it to the app. However you need to subscribe to an optional cloud service at additional charges, otherwise you can record data locally into an SD card.
#2. WOOLINK 3MP Wireless Wi-Fi Light Bulb Security Camera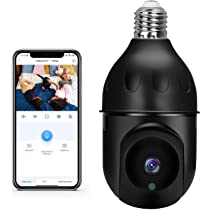 The WOOLINK 3MP Wireless Wi-Fi Light Bulb Security Camera features 3MP Super HD, with a nice resolution which delivers clear footages. WOOLINK also features night vision, has a motion detector, and a 2-way audio so you can communicate with people outside. users get to choose between cloud and local storage to store their footages. With its great field of view, it goes well with an all-rounder bulb camera.
Also very easy to set up, just screw it in and connect to the app. The resolution may be lower than that of Gayou, but it is clear enough to identify people and see what's happening.
The downside here is that this camera is only compatible with 2.4Ghz wifi, the camera may not work with a 5Ghz connection. You need to buy an SD card to store footage. And after the trial days, you need to get a subscription to use the app.
#3. XVIM 3MP Light Bulb Security Camera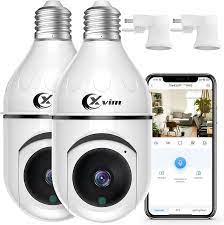 The XVIM 3MP Light Bulb Security Camera also comes with its own many features. A 3MP HD camera, two-way audio, a motion detector with alerts sent to your mobile. Unfortunately some of these features require a paid subscription to use.
This camera unfortunately is incompatible with 5ghz. Overall it is a great choice if you don't mind the subscription.
#4. SYMYNELEC Light Bulb Security Camera 2K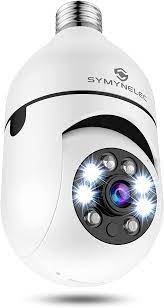 Symynelec like Gayou features a 2K resolution with night vision recording. It also has 360-degree movement along with human motion detection and a 2-way audio along with alerts.
Very easy to set up like the others, records footage clearly for that resolution, can be connected to Alexa and Google Assistant.
#5. The NIERBO 2 Pack Light Bulb Security Camera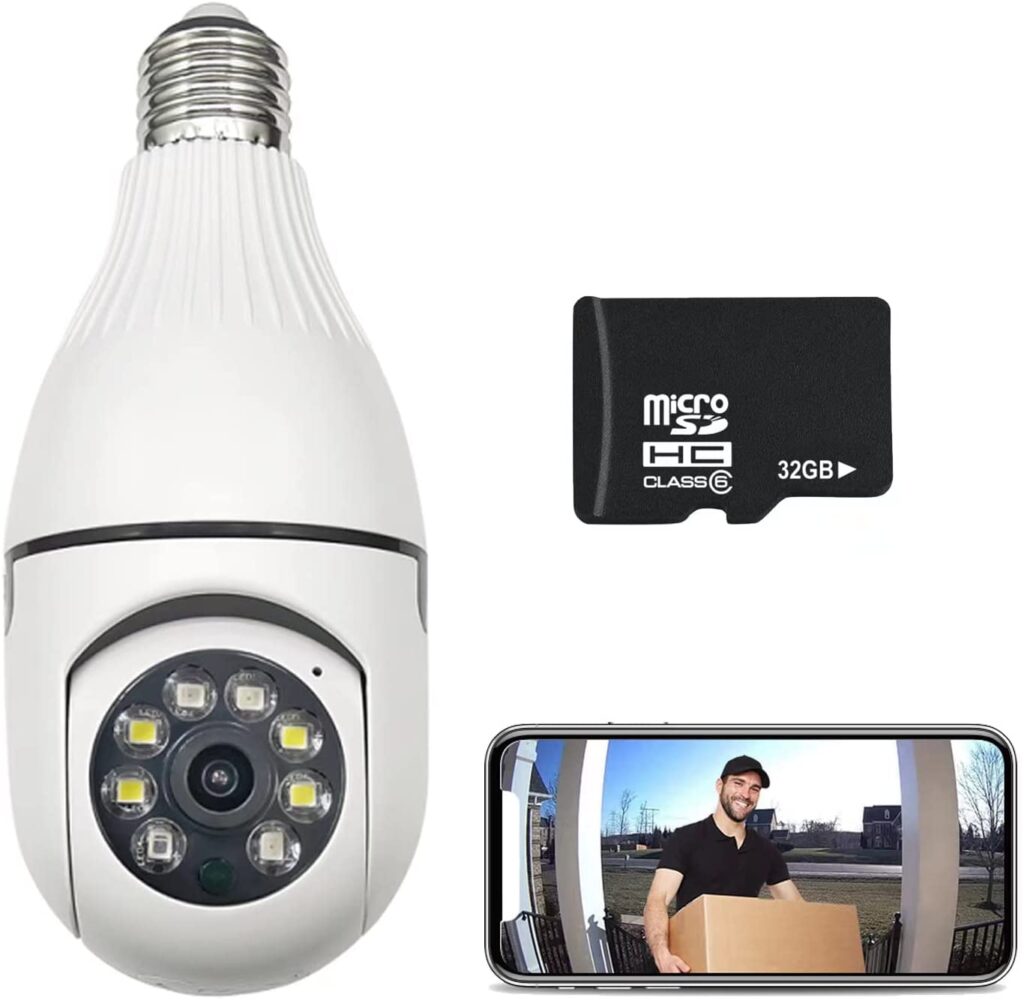 This light bulb camera offers a 1080 resolution to make the video clear. It is a smart 360 degree screw in light socket camera with two way audio color night vision, and a motion detection alarm. You have to connect with an app so you can see footage easily from anywhere you are.
This camera supports 2.4G Wi-Fi. There is a motion detection sensor with a notification alert sent to your phone once it detects a motion. It supports both SD card and an optional cloud storage for an extra charge.
Before you go…
Looking for the best way to keep your home safe, the light socket security camera is the best option for you at a very affordable price. You can keep an eye on your property and detect burglars easily from anywhere in the world as long as you have the app installed.
FAQs
Do light bulb cameras work when the light is off?
The light socket security camera is fully powered within the light bulb socket, you won't be needing batteries. Even when you switch off the light, it has enough voltage from the light bulb socket to power the camera till the lights are back on.
Can light bulb cameras be hacked?
Yes. Smart light bulb cameras can be hacked and your personal information can be stolen. One needs to be extra careful regarding these things.
Was this article helpful?