TV Show
Yellowstone Season 4 Streaming – All there is to know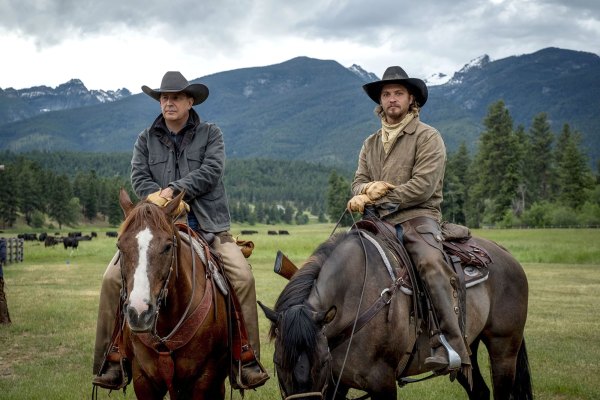 Yellowstone Season 4 fixed to return sometime this November is anticipated by its fans to finally provide answers to disturbing questions season 3 aired in August 2020 had left them with.
Recalling that in the season 3 – The Dutton family dealt with an attack on all fronts, they had amassed a good number of enemies and so could be anyone behind the attacks. John Dutton (Kevin Costner) had been shot multiple times at the road side, Beth's (Kelly Reilly) office was bombed, after someone opened an uncertain package and she was Costner's daughter and Kayce (Luke Grimes) his son was ambushed. All these had a way of messing with fans memory, making them imagine the worst fate.
Beth re-emerges from the smoke, covered in blood, and her clothes half blown off. apparently traumatized she sits at the side of the road and lits a cigarette. Once she sits we see that her back has been badly burned, presumably bearing the brunt of the explosion.
"[It] could be anyone involved in Broken Rock. It could be big money players trying to bring the ski resort, could be small-time criminals looking for retribution or it could be someone right in their own living room." Bentley had said in a YouTube vid on semptember, 2020.
Yellowstone Season 4 – Highlights
There are ten episodes in this new season and is currently slated to air on January 2, 2022. One thing is sure to be expected in the new season – Bentley hinted in a September 2021 YouTube video. "The action of the scene is real time "Where we pick up is right where we left off," So from the above you can be certain nothing will be missing in action, or skipped and left to your imaginations.
It seems nothing is off the table in season 4 either. "It's high stakes, high energy. It's fast, it's dangerous. It's wild," the American Beauty actor exclusively told Us Weekly in November 2021. "It's very dangerous for Jamie and everyone else."
Is John Dutton Dead?
"I can't say. I mean, there's an ending that you're gonna see — hopefully it's a powerful one for you," he explained. "I try to make things and be a part of things that have a dramatic arc to them, so I just try to enjoy it right up to the end if you can." that's sure a hint.
The episode opens on John's hand, which is covered in dried blood. He's still alive but in bad shape. On the floor next to him he's written a description with his own blood of the assailants' vehicle. Luckily Rip Wheeler (Cole Hauser) finds him and rushes him to a hospital and placed in a comma for two months.
Are Kayce and Beth Alive?
Reilly technically dodged the question of whether her character – Beth, will survive the bombing, teasing at Deadline's Contenders Television event in May 2021 that season 4 is satisfying but not confirming whether she participated in filming.
Grimes, left no clues, but both he and Reilly are expected to reprise their roles in at least the first episode of the season to resolve the cliffhanger.
Someone does die in episode 1 though, just not who we expected. Towards the end we see Rip approach Roarke Morris (Josh Holloway) who is fishing in a shallow stream. Rip approaches him, shaking up a cooler box that contains a venomous snake. The snake bites Roarke on the face and he slowly dies after frothing at the mouth. Rip stands over him and says "good riddance" as Roarke takes his last breath.
Episode 3 of Yellowstone season 4 – "All I See Is You" will air at 8 p.m. ET, 7 p.m. CT on Sunday November 14. Each episode is scheduled to air weekly on sundays from then going forward.
Who's Joining the Cast?
Several new faces will be introduced in season 4. Piper Perabo will play Summer Higgins, an environmental activist who opposes industrialized farming. Jacki Weaver will recur as Market Equities CEO Caroline Warner, and Kathryn Kelly will portray a veterinarian tech who might end up romancing a ranch hand. Finn Little will be a series regular in season 4 as a teen named Carter who shares similarities with Rip.
Who Attacked the Duttons?
Jamie is a top suspect for the attacks against his adoptive family, but no one knows for sure since he might have other plans up his sleeves having found out that he is not really a Dutton. "He definitely turns toward his [biological] father," Bentley told Us in November 2021. "He turns away from the Duttons who have hurt him for the last time in his mind, and he's turned toward some other real acceptance and what he hopes is real love. He's not totally out of his mind here. He knows he's a dangerous guy, but he's definitely lost, so he's making poor decisions."
When Does Yellowstone Season 4 Premiere?
On Paramount Network Sunday, November 7, at 8 p.m. ET. The episode will kick off with a two-hour premiere via simulcast on TV Land, CMT and Pop TV.
Will There Be a Season 5?
Yellowstone has yet to be renewed for season 5, but Hauser has already indicated that it is a sure thing. "[Sheridan] is working on it right now," he said during a March 2021 virtual happy hour. "Season 5 is going to be wonderful. The way we ended season 4 — I can't give too much away, but the way season 4 ends, I think the audience … will be happily surprised."
When is the next episode of Yellowstone on?
Yellowstone launched episode 1 and 2, "Half the Money" and "Phantom Pain," back to back during a two-hour premiere special on Paramount Network.