Is the audio stuttering while air playing music to Bluetooth headphones/speakers connected to MacBook running MacOs 12.0.1. or Airpods are cutting out on Mac since MacOs Monterey update? Don't panic, it is usually caused by a common bug and can be fixed. There are a few reasons this is happening.
How to fix Airpods cutting out on a Mac
#1. Turn off Airplay receiver
Open system preferences
Click on Sharing
Turn off Airplay receiver under services column
Reconnect Airpods or Bluetooth headphones and check if audio stuttering has been fixed
MacOs has a new Airplay to Mac feature which might not be at its best and is now causing interferences in Bluetooth connectivity with the headphones or Airpods.
Alternatively:
You can remove the wireless headphones from Bluetooth preferences and restart your MacBook. Then reconnect back to see if issues is fixed.
Apple menu
System preferences
General
Uncheck the option "Allow Handoff between this Mac and Your iCloud Devices".
#2. Try sound reset
You might have tried these different solutions like adjusting volume controls, un-plug and re-plug speakers which didn't work. Try resetting the sound to see if it solves the issue.
System preferences
Sound icon under sound settings
Output
Use built-in sound for internal speakers under the option for choosing a sound device. Make sure Output volume is turned up. This should restore audio to your native speakers, thereby making audio stuttering on MacBook stop.
#3. Sound cuts in and out
If sound cuts in an out while using your MacBook. First, make sure that this problem is not from a particular app or service, restart the app or service to test run it.
If you ascertain it's not from the phone, disconnect and reconnect Bluetooth headphones or speakers and see it solves the issue. Pretty obvious and a little bit cliché, but it just might be the solutions to your problem.
#4. Restart in Safe Mode
Another alternative that might work is to restart Mac in Safe Mode. This performs a disk repair, clears cache files and only load Apple software extensions and fonts. Boot up will take time but it might just be the solution you need.
#5. Contact Apple Support
If after trying all these solutions, you still have such audio stuttering issue, contact Apple support. They will help you look into the issues and troubleshoot.
This article was first published on September 3, 2022 8:42 p.m. WAT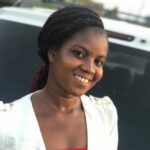 I am an experienced tech and innovation writer. It's been 2 years+ I started writing at Terecle, covering mostly Consumer electronics and Productivity. In my spare time, I enjoy reading and learning the latest happenings around the tech ecosystem.
Was this article helpful?