Talkatone is an app that gives users unlimited access to SMS, Calls, VOIP calls, group chats. You can send and receive free messages and calls via Wi-Fi or cellular data, no need to use any cell minutes. According the description on the official website:
We have a very simple vision: To make it easy for you to communicate with anyone, anywhere at little or no cost. We want you to be able to connect when you want, where you want, how you want without the cost and difficulty of dealing with a traditional mobile phone plan. In other words, real-time mobile communications the way you want it to be – reliable, easy and low cost.
You can use the free version application to speak to any Talkatone number even if they have a Talkatone subscription or not. It makes it easy to connect with people over cellular data or Wi-Fi without having to think of phone bills and call cards.
Features of Talkatone app
Here are some of the features of Talkatone and the benefits you get to enjoy if you sign up Talkatone.
Free phone number to make calls and receive or send texts to most US numbers and even landlines
Wi-Fi/Cellular Data Calling: You can Call friends and send texts via cellular data or Wi-Fi. No cell minutes required
You can change your number and still maintain call and text history.
What you get if you subscribe for Talkatone
Although signing up on Talkatone is totally free, you can go premium and get a subscription to enjoy premium service.
You can purchase ad-free access to the app at $9.99 a one time cost. Allows you use the app without ads distracting you.
Users receive free 60mins of calls and texting every month, you can purchase additional minutes for $0.99 every 60mins if you want more time for calls and texts.
Talkatone is not included in your phone bills because you use the internet to make calls and send/receive texts.
Note that this app although it is well known in USA and Canada. But now it has spread to other regions such as Mexico, Singapore, Australia, South Africa, New Zealand, Germany Japan, UK, South Korea.
All you need to do is to download and install the app from Google play store or Apple App store, sign up and enjoy unlimited calls and text.
Steps to sign-up for Talkatone
Here's how to Sign-up For Talkatone:
Download and install the Talkatone App on your device, it's available for either Android or iOS devices
Open the app, click on Sign Up
Sign Up with Google or enter any other email address in the box provided and wait for an activation code. Or input your phone number to receive the activation code to your phone number
Enter the activation code once received
Click on Get Number to receive a Talkatone number provided for you
Start calling and texting through Talkatone using this number
How to find Talkatone number in your contact list
Its very easy to find your Talkatone call and text number on your contacts list.
Simply Open the Contacts app > tap your name at the top. You will see the Talkatone number mentioned in there.
Final thoughts
Talkatone makes it easy to call and text friends for free, just download the app and sign up and enjoy a lifetime of calling and texting with
If you are looking for other viable alternatives that can work like Talkatone; there are other apps similar to Talkatone like Whatsapp, Telegram, 2ndLine, FreeTone etc.
This article was first published on September 23, 2022 1:23 p.m. WAT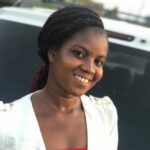 I am an experienced tech and innovation writer. It's been 2 years+ I started writing at Terecle, covering mostly Consumer electronics and Productivity. In my spare time, I enjoy reading and learning the latest happenings around the tech ecosystem.
Was this article helpful?