Honor MagicBook 14 2022 assumes the spotlight in this article. Honor is best known primarily as a Chinese smartphone manufacturer, but the company's portfolio also extends to tablets, wearables (bands, watches and earbuds) and now laptops.
Honor has produced a number of laptops that are on sale in the tech market which are both sleek and powerful its latest product is the Honor MagicBook 14 2022.
This laptop was first announced in China with AMD's Ryzen 6000 CPUs and no discrete GPU options and brings with it a redesigned chassis, 12-gen Intel CPU, a 75Wh battery and an optional Nvidia RTX 2050 discrete GPU.
The MagicBook also comes with the range of 14-inch, 15-inch and 16-inch display screens with the latter having a discrete graphics card.
Honor claims a multi function for this laptop, i.e. suitable for both business and gaming. Let's see about that in specifications.
Honor MagicBook 14 2022 Specifications
#1. Performance
The international variants of the Honor MagicBook 14 2022 comes equipped with the Intel i5-12500H processors based on the Alder Lake architecture. As well as a 16 threads with 4 performance cores that support Hyper-Threading and 8 power-efficient cores.
With twelve cores sharing the 18MB L3 cache. The base clock on the performance cluster ranges from 2.5GHz to 4.5GHz while the efficiency cores come between 1.8GHz and 3.3Ghz. The TDP is rated at 45W.
Honor equally has a system-level performance and power consumption optimization called OS Turbo. It identifies specific usage scenarios and activates the system to balance performance and power consumption.
Some MagicBook 14 unit come with the NVIDIA GeForce RTX 2050 discrete graphics card, 4GB GDDR6 video memory and a 60W power envelope. Which is a mid-range graphics card for laptops supporting DirectX 12 and OpenGL 4.6 and only gets activated during gaming or video editing – everything else is handled by the built-in Intel Iris Xe graphics unit.
#2. Design and keyboard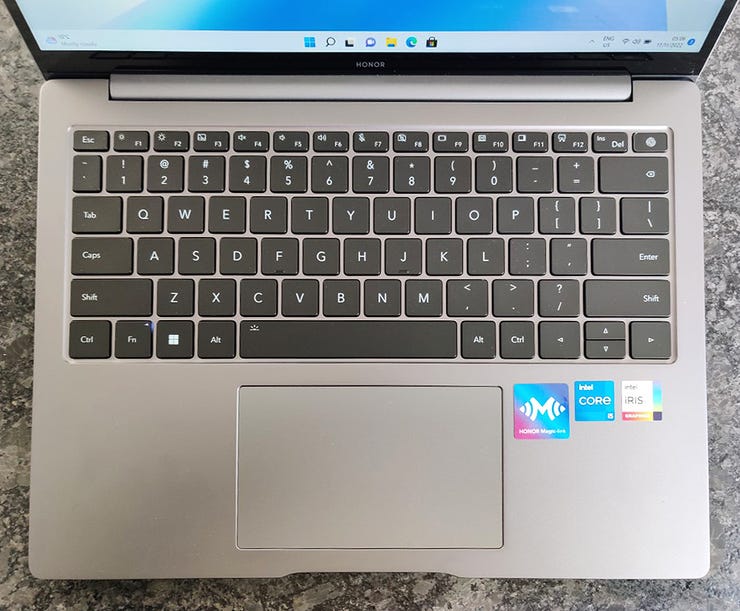 Honor MagicBook 14 2022 is a sleek aluminum lightweight laptop that is measured to be 17mm at its thickest point and weighs 1.58kg. This allows for both portability and easy mobility on your daily commute.
The machined aluminum alloy chassis is cold to the touch and feels solid. The laptop is offered in Space Gray color and mystic silver.
This laptop has a backlight QWERTY keyboard, that supports good typing experience with its 1.5mm smooth key travel and the keycaps that features a resin coating which is less prone to oily fingertips.
The only downside is the narrow arrow keys, though the plastic trackpad is decently sized and all gestures function normally.
#3. Display screen
The 14-inch screen of the Honor MagicBook 14 2022 is adorned in bezels thin enough to earn a claimed screen-to-body ratio of 88.15%, with a 720p webcam above the screen and a screen's resolution of 2,160 by 1,440 pixels that displays sharp and clear content. While the refresh rate is 60Hz, which should no less result in better battery endurance.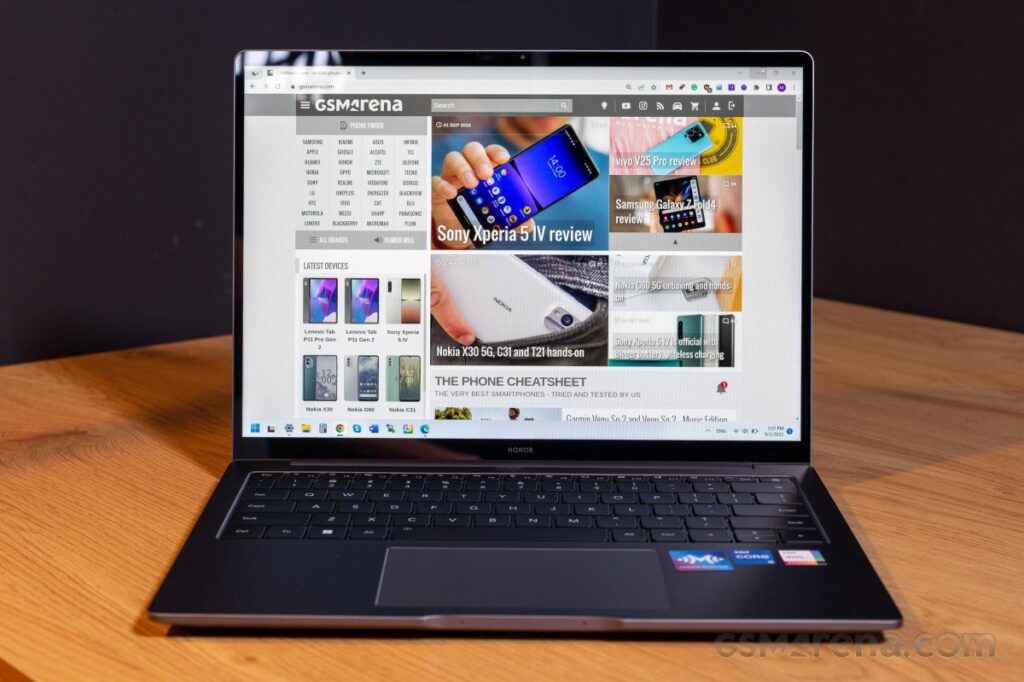 MagicBook 14's 14.2-inch display is of the a-Si TFT LCD variety which is a, more affordable alternative to the LTPS LCD and AMOLED screens in more recent premium laptops.
As with a lot of recently announced laptops, MagicBook 14 2022 gets a 3:2 aspect ratio screen which is great for productivity and multitasking but leaves videos with large black bars compared to 16:9 screens. The display is protected by Corning Gorilla Glass Victus.
Honor claims 300 nits of brightness on the panel. Brightness above 300 nits is solid for in-door use though insufficient in class-leading laptops that boast of above 500 nits. Viewing angles are less great on this panel with noticeable shifts in contrast when viewing from the sides.
Outdoor visibility is not great on the glossy screen. The display is rated at 100% sRGB coverage. The panel has a 145-degree opening angle and you can open and close the lid with one hand.
The laptop packs two microphones and two bottom-firing speakers. The speakers are loud but less clear. There's a biometric sensor embedded in the power button for secure logins while connectivity is sorted by Bluetooth 5.2 and Wi-Fi 6. It has a Microsoft's Windows 11 Homepage.
#4. Battery life and charging
The honor MagicBook 14 2022 is packed impressively with a 75w lithium polymer battery which is among the larger cells we've seen in 14-inch laptops. Honor claims 15 hours of 1080p local video playback and 10.5 hours of mixed use with an OS turbo claimed to increase your daily work battery life by about 20%.
In our web browser stress test, MagicBook 14 2022 managed 14 hours and 20 minutes with the screen set to 50% brightness. This is among the highest scores we've seen from a laptop this size and is a testament to the improved efficiency of Intel's 12th gen chipsets.
Honor really nailed the battery endurance here and we can safely assume most users will be able to get a whole day's worth of office work out of this machine without needing to top up. The laptop comes with a 135W USB-C SuperCharger which is a bit bulky but it manages a full charge in just 80 minutes. You can charge from either of the two USB-C ports on the laptop.
Honor MagicBook 14 2022 Price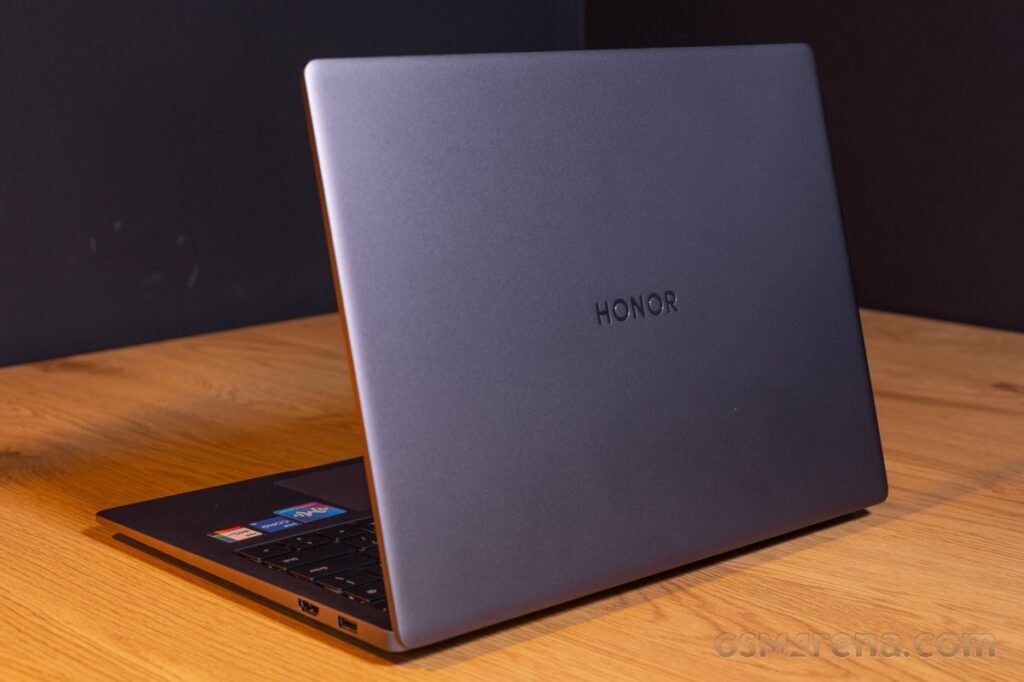 Though, the Honor MagicBook 14 2022 is yet to be available in the UK, you can find it online with a starting price of €999.90 (~$1,064). This buys you a 12-core (4 Performance, 8 Efficient) Intel Core i5-12500H processor, integrated Iris Xe Graphics, 16GB of RAM and a 512GB SSD. A model with discrete Nvidia GeForce RTX 2050 graphics costs €1,199.99 (~$1,276).
There aren't many 14-inch laptops with similar specs and the available ones are more pricey.
Performance on the MagicBook 14 is among the best in the segment, the battery holds up, the build is solid and there's a decent amount of ports. Honor MagicBook 14 2022 is a real all-arounder, we are moved to agree with Honor, as it's capable of work and play due to its powerful chipset and discrete graphics card. The battery endurance is stellar and the port selection is more than adequate.
Powerful Intel 12th gen processor
Optional Nvidia RTX 2050 graphics
Stellar battery life
Good port selection
Premium design and solid keyboard
Subpar screen – poor viewing angles, only 348 nits brightness
Bottom firing speakers
Plastic trackpad
Was this article helpful?