TikTok is a worldwide recognized social app, right from 2020 when it came into global recognition it has gathered friends, big audience. With billions of users sharing thousands of TikTok clips every single day with other users. Funny clips, educative clips and all other interesting clips that makes being on TikTok fun.
If you are a TikTok content creator or an aspiring content creator, you'd like to see how many shares on your TikTok and who has shared your content. This is important to keep you tracking your growth on the platform.
Can you see who shared your TikTok content?
You won't get an exact list due to TikTok's privacy policy. No one can see exactly users that share their TikTok video but they can see how many shares they've had.
How to see who shared your TikTok content
You can see see how many people that shared your TikTok but not Who. They are different alternatives to do that.
1. Use analytics tools
You can use analytics tool to know how many people based on different statistics. The first time you click on analytics, enable functions.
Tip: Videos you have before enabling functions do not have additional statistics.
Open your TikTok
Click the hamburger icon at the top right corner
click on creator tools
Click on analytics

click on overview > content > followers

View shares under engagements
Tap video you wish to check
Look for the number under the arrow at the right hand side to see how much has been shared.
In the past users needed to have a TikTok pro account to view who shared their TikTok but now the feature is gone. But with analytics you can know how many people shared your content on TikTok.
2. Check other platforms
TikTok users can share their video contents with other users not on the platform. That way you can know who likes your content and has shared your content . TikTok can be shared via stretchy tool and you can perform a duet with other popular users.
Performing a duet with a popular account will help you increase your content reach, you can check the analytics tool to see how many shares you had on the video.
FAQs
How do I share my TikTok content?
Enable video sharing on your TikTok: Go to TikTok > Click on the hamburger icon at the top right corner of the screen > Go to privacy and safety under settings > Go to private account and switch to public. That way people can see your videos and share them.
How can I share videos with others?
You can share videos with others on the platform: Go to TikTok > Go to Profile > Video > Click the three dots on the right > Tap the platform you want to share the video and click on it.
How do I know if someone shared my TikTok content?
TikTok does not notify you when someone shared your video. You can only see how many times it was shared: Go to TikTok > Profile icon > Tap video you want to check > look at the number at the bottom of the screen to see how many shares you have.
Conclusion
It's important to check TikTok shares because it helps you track your TikTok growth and help you improve your contents .
Due to TikTok's privacy policy you can only know how many shares you have and not who has shared your content on TikTok.
This article was first published on July 27, 2022 10:38 p.m. WAT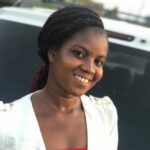 I am an experienced tech and innovation writer. It's been 2 years+ I started writing at Terecle, covering mostly Consumer electronics and Productivity. In my spare time, I enjoy reading and learning the latest happenings around the tech ecosystem.
Was this article helpful?