This article is expressly throwing light on the new MacBook Air Starlight with M2 Chip. Apparently this MacBook among other attractions come with a nearly absolute design overhaul but maintains nearly the same thickness from front to back.
In clearer terms, we mean the new MacBook Air Starlight with M2 chip has been updated or changed in nearly all aspects and yes it's the biggest update to the Air after about 14 years.
With so much changes to the MacBook which has primarily been probably idolized as the standard for thin and light laptops that other laptops brand manufacturer may follow.
What's new?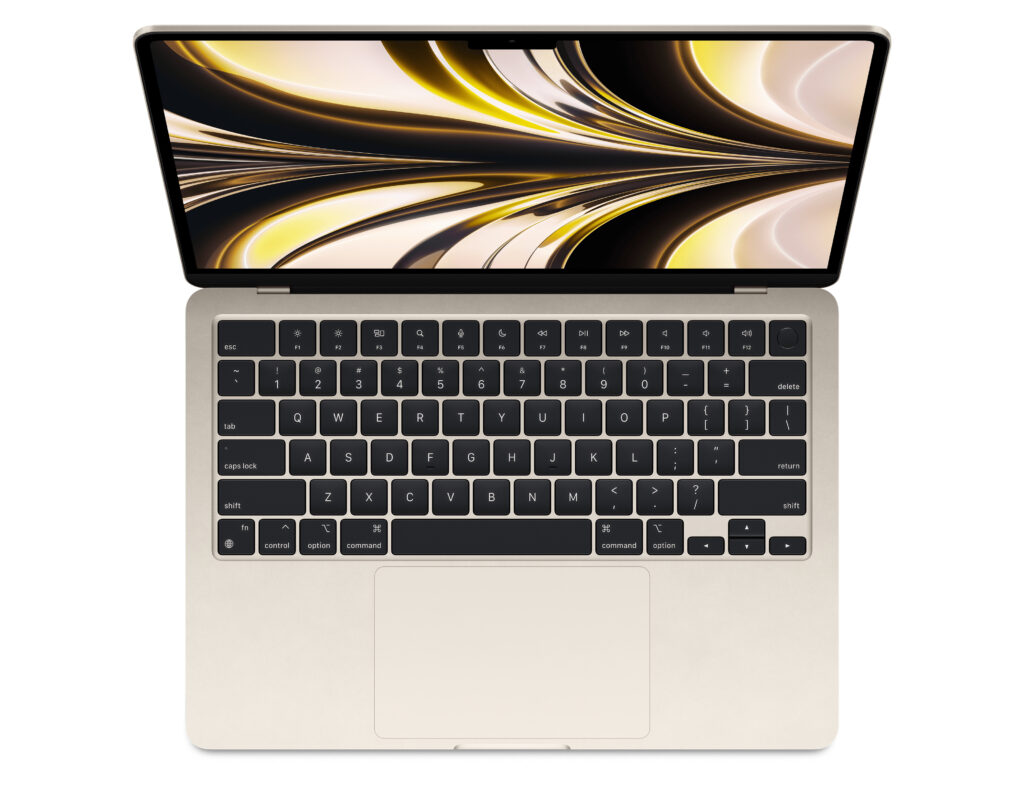 One of the significant highlights about the new MacBook Air Starlight with M2 chip is of course that "an in-house processor, which is the M2." Also, of course it has noticeable changes in its remarkably thin and lighter (weighs 2.7pounds) design and hardware. Some of which include, much-improved screen, much-improved webcam and more. It has a symmetrical and squared shape that is much more pronounced in appearance as well as more portable than its predecessor MacBook Air models.
One of the things to expect from the new MacBook Air Starlight with M2 chip is that you are open to get the new Midnight color. It is fantastic and has a blue-black finish that can change depending on the light. But you need to expect that it gets covered in fingerprints that maybe challenging to workaround.
This is because dark aluminum — Razer's laptops are usually fingerprint magnets but of course they are other colors to opt for such as: the silvery-gold Starlight color, which surface is fingerprint-free.
MacBook Air Starlight with M2 chip Features
#1. Flexibility
While its both thinner and lighter in weight, the new Air is very solid and well-built than prior models. Its chassis is stiff, with a next to zero lid flex, and has the ability to be opened with a single finger. Apple retains the top name when quality laptop building is mentioned and delivers a clean finish, and the new Air is nothing short of these.
#2. Battery charging
Furthermore on the MacBook Air Starlight with M2 chip. It clones the MacBook pro 14 and 16 MagSafe charging connector which allows you to charge, without worrying about tripping over its cable. It also comes standard with a color-matched braided cable in the box, a less likely absent feature in some Pro models.
The manufacturer gives you flexibility on chargers. The base model MacBook Air comes with the familiar 30W brick while the higher model provide a choice between a new compact 35W charger with two USB-C ports and a larger, more powerful 67W brick as seen in the MacBook Pro line.
This larger brick speeds up your MacBook Air charge and gives it a 50 percent battery life in 30 minutes. Also, you can use both Thunderbolt-capable ports for accessories.
#3. Keyboard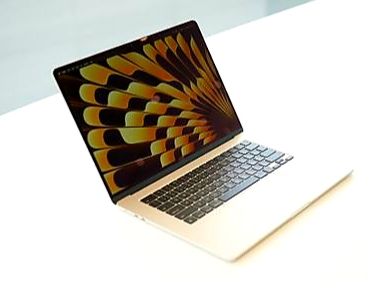 The MacBook Air Starlight with M2 chip has a keyboard that emulates the 14-inch MacBook Pro, with a full-height function row and Touch ID and fortunately is void of the questionably useful Touch Bar that's inexplicably available on the latest 13-inch MacBook Pro M2.
The keys offer smooth travel during usage, they are well- spaced, and quieter than older models. The trackpad is slightly wider, and maintains effective scrolling, gesture support, and palm rejection.
#4. Display screen
This new MacBook Air comes with a brand new display screen that is slightly larger — measuring 13.6 inches vs. 13.3 — vertically than horizontally. The bezels around the screen are trimmed, and the corners of the screen are rounded, providing a more modern look than prior models.
The new display according to Apple offers 500 nits against 400 of the old one; its a lot brighter too. In addition, it scores greatly on color accuracy and reproduction metrics, covering 100 percent of the SRGB spectrum, 84 percent of AdobeRGB, and 95 percent of P3.
#5. Audio quality
Another interesting change on the new MacBook Air Starlight is that its deck lacks the speaker grills that are usually found on virtually every other MacBook model. Rather, the speakers are integrated between the keyboard and the display, securing it a neater look.
Unfortunately, just like the 14- and 16-inch MacBook Pro models, the new Air now has a notch in its display, which can be really challenging when using the computer. The notch's position and size, affect menu bar apps display and maybe difficult to access atimes.
Fortunately, the camera inside the notch remains the same 1080p unit that's in the larger Pro models, and it's much improved (It's sharper, captures more detail, better color/contrast, and a generally better-looking image). Combined with the Air's three-mic array, the new camera works great for video calls.
MacBook Air Starlight with M2 chip Specifications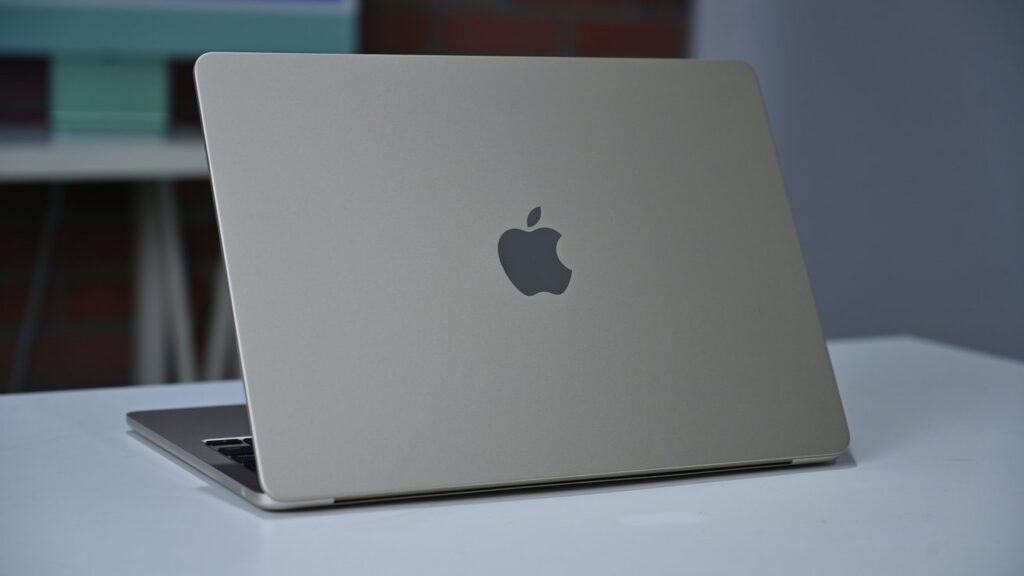 13.6-inch, 2560 x 1664 display
8GB RAM (configurable to 24GB)
256GB storage (configurable to 2TB)
Two Thunderbolt 4 USB-C ports
MagSafe 3 charging
Apple M2 chip (8c CPU / 8c GPU, configurable to 10c GPU)
3.5mm headphone jack
Magic Keyboard with full height function row and Touch ID
802.11ax Wi-Fi 6, Bluetooth 5.0
Four-speaker sound system with three-mic array
1080p webcam
0.44in x 11.97in x 8.46in (11.3mm x 30.41cm x 21.5cm)
2.7 pounds (1.24kg)
Was this article helpful?