The Megabook T1 is a brand new product from Tecno, precisely the company's first leap into laptops, which they had launched at the 2022 IFA Berlin. As a Chinese smartphone brand with a global market Tecno has long been in the mobile business since being founded in 2006, and has been doing well since.
Inspite the Megabook T1 being a first design, it has created a steaming impact and impression on the laptop manufacturing industry.
From its beautiful exterior design that fulfills the company's (philosophy of "the perfect integration of contemporary, aesthetic design with the latest technologies." Also, the Megabook T1 can compare or even supercede some more prominent brands on appearance.
With an all all-aluminum build, and a premium finish, and the neatly written Tecno name on the lower right of its lid, as well as the Megabook inscription near the top printed on horizontal lines with a glossy finish, giving it a classy look is the true physical look of Tecno's Megabook.
It incorporates a professional smart look, as well as a good battery life for anyone who is keen on owning a decent Windows PC. In addition, it comes in varying interesting colors such as Moonshine Silver, Rome Mint, Galaxy Silver, Monet Violet, Space Grey, Champagne Gold, and Denim Blue.
However, this article by further reading intends to capture more detailed analysis on just what you can expect from the Megabook T1 by Tecno.
Megabook T1 Specifications
With the key features of the Megabook T1 being thin and is developed with a light design, and offers great productivity at an affordable price, there is still more to it performance.
Megabook T1 Weight
Underneath it, are two speaker grilles flanking on either side and a large intake grille near the top, having three rubber feet, with the large one bearing the Tecno motto, "Stop at Nothing."

The laptop has a very slimline, that in comparison is barely thicker than an iPhone 14 Pro Max, which proves its lightweightness and portability. The lid's beveled edges also give it a premium feel.
Keyboard design
Although the laptop has a thin sleek design. The keyboard has large keys that are well spaced to support convenient typing but also sags a bit when you add pressure on it. However, this is acceptable at its price range, and the typing feel is excellent. It comes backlit, with a number pad to ease trouble typing in the dark.
However, the number pad's layout differs from the usual five-by-four design as Tecno uses a five-by-three format, which places the zero key at the lower left of the number pad and may need some getting used to.
Performance
The Megabook T1 comes with an Intel Core i5-1155G7 processor, but allows for individual's configuration to either a 512GB or 1TB SSD and an 8GB, 12GB, or 16GB RAM and a 2.5GHz clock speed. With this you can multitask in a jiffy. Core i5-1155G7 is a relatively powerful processor, made with power efficiency in mind, and is more than enough to support basic office tasks.
Tecno also offers a fingerprint reader on the upper right corner of the keyboard that doubles as its power button. This is an excellent placement, since it's not a part of the keyboard, and will less likely interfere while working.
Battery life
The Megabook T1 comes equipped with a 70Wh battery in a box which should be opened with care to avoid accidental dropping.
Also, at full charge will lasts over four to five hours of regular use (running Microsoft Word and Microsoft Edge and tethered to a smartphone for a data connection) and also charges quickly with its 65W GaN charger.
Display screen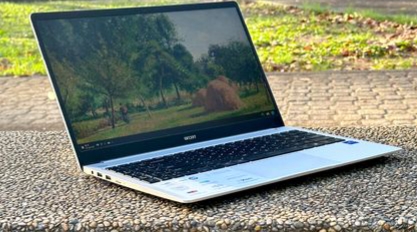 The Megabook T1 has a 15.6-inch full screen monitor with a webcam on top. The camera has a small privacy switch, is flanked by the two microphones on either side. While not readily apparent, there's an LED indicator light to the left of the camera. The hole to its right, between the camera and the right microphone, is probably an ambient light or infrared sensor.
It has 100% sRGB coverage and a 350-nit brightness rating, allowing you to use it with no issues in bright areas as it uses Dc dimming to control brightness well as ensures that accurate colors are captured on any file you are viewing and always on display without any ambiguity.
Sounds
For an affordable, thin and newly designed laptop, it offers high-quality sound out of its stereo speakers, though the bass is less great, but its sound quality is comparable to the Acer Predator Helios 300 PH315-53, thats is four times higher than the T1s price.
Trackpad
The laptop also has a massive 5.6-inch trackpad near the chassis's center. It offers excellent tracking, and the gestures on Windows 11 make it a breeze to use. You won't miss the mouse with this trackpad.
Ports and storage
Tecno doesn't shortchange you when it comes to ports. The Megabook T1 comes with seven—a 3.5mm combo jack for plugging in your headphones, an HDMI 1.4 port for an external monitor, three USB-A ports, and two USB-C ports. However, the USB-C port near the Kensington lock slot is only used for charging and cannot transfer data.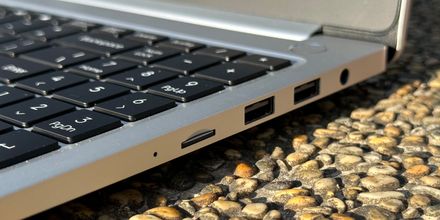 It also has a microSD slot, allowing you to load pictures from a microSD-equipped camera quickly. Alternatively, you can use it to expand the laptop's storage and the only thing you can replace is its M.2 NVMe SSD. Have in mimd that, it only uses USB 2.0 speeds, so don't count on it for massive file transfers.
Specifications Summary
Storage: Intel SSD 670p 512GB
RAM: 8GB, soldered
Graphics: Intel Iris Xe Integrated Graphics
Wireless: Intel Wireless-AC 9461 Wi-Fi 5, Bluetooth 5.1
Display: 15.6-inch 1920 x 1080 FHD IPS LCD, 350 nits, 100% sRGB
Webcam: 2MP with privacy cover
Ports: 1x HDMI 1.4, 1x USB 3.1 Gen 2, 2x USB 3.1 Gen 1, 1x 3.5mm combo jack, 2x USB Type-C, 1x microSD card reader
Microphone: Dual mic with environmental noise cancelation
Speakers: 2.5W Stereo Speakers with DTS Immersive sound
Battery: 70Wh
Charger: 65W USB-C GaN Fast Charger
Dimensions: 36 x 23.8 x 1.5cm
Weight: 1.6kg
Megabook T1 Price
Tecno's Megabook T1 privides you all you need in style, performance, and price in a way that takes away the ugly affair of having to compromise for either features in a laptop. It also lets you run programs all on a price tag of US$450 for the 8GB RAM/512GB SSD model and $600 for its 16GB RAM/1TB SSD.
Which is just affordable compared to competing laptops from popular brands with similar specs which cost significantly more.
Tecno Megabook T1: Pros and Cons
Good battery life
Sleek design
15inch display screen
Thumbprint capture
Light weight and thin
Backlit Keyboard
Limited Memory Space for bulky actions
Challenging to find globally online
Was this article helpful?