Nothing's third product is the new wireless earbuds known as the Ear Stick; this is coming after the Nothing Ear 1 earbuds was launched previously. Though they both share similar design and feature, there are lots of differences.
Nothing Ear Stick features
The Nothing Ear Stick uses the half in ear design with an ergonomic design. It is designed for comfort and ergonomically shaped that you can wear it for long. This device promises up to 29hours of listening time according to the official website. There is a custom 12.6mm dynamic driver with a clear voice technology.
With it's custom dynamic driver, users are assured of clear, rich depth, detailed and balanced sound with more frequency. With the clear voice technology, you can feel the beat and it is windproof and crowd-proof. You can connect easily to any Android device as it is fast in pairing.
However there are certain features which the Nothing Ear Stick lacks. It lacks features like active noise cancellation and transparency mode. But users are assured of long battery life, larger drivers, improved antennae design, custom EQs and better noise reduction; and of course the new case design.
The case is designed like a lipstick, you can turn the bottom of the tube as you hold the top and earbuds are out. You can turn the case both ways and also in different directions; the transparent plastic used for the case makes the earbuds visible whether they are open or close .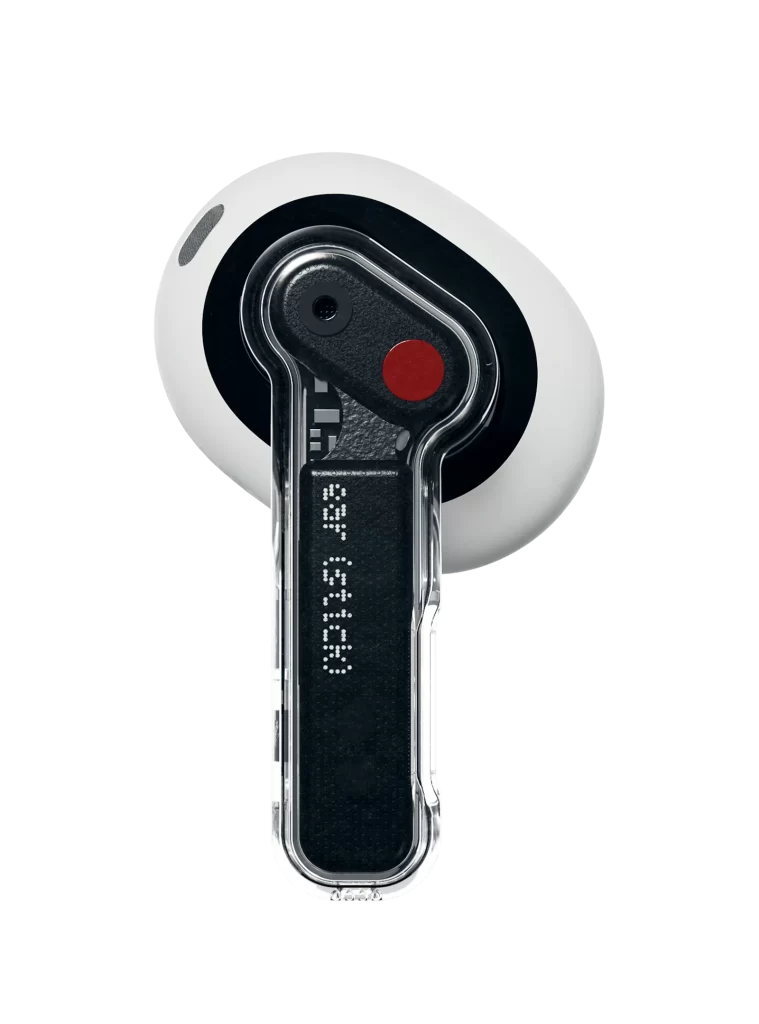 All the way down to the case you'll find a red plastic model containing USB-C charging port. The transparent cover is made out of glossy plastic, but as attractive as the case maybe; There are downsides to it.
You can't seal the case and this makes the case exposed to dirt, dust, debris, hair particles, etc. You can't really remove these things when they are there. Very slippery when covered in oil and sweat. Since the case is exposed it is not water resistant at all; however the earbuds are water resistant.
The Nothing Ear Stick supports Nothing X app which is an updated version of the previous Ear 1 app. It available on Android and iOS. Through the app, you can control the earbuds and they are quite a lot of functionalities on the app. You can see the battery percentage of the earbuds on the app, you also get to use the Equalizer (EQ)or Control settings.
There are about four presets in the EQ only available for the Ear Stick. This control customization enables you to change the binding for double press, triple press, press and hold and other hold gestures.
You can choose skipping tracks, adjusting volume, voice assistant, low latency mode, disable in ear detection, update the firmware and more other features .
However if you have the Nothing Phone 1, these features are built into the Bluetooth Settings so you don't need the app. Ear Stick software is stable, and for the audio quality, it has a 12.6mm dynamic driver which supports SBC and AAC codecs over BT5. 0.
The sound is quite lively and detailed. With a decent microphone quality, noise reduction algorithm silences background noise. It has an okay latency mode, and you won't experience audio -video delay and lags when used on an Android or iOS device; There is stable connection as well.
In all Nothing Ear Stick is an attractive product as people buy it mainly for its attractiveness. But in terms of functionality, the earbuds is not doing bad at all. Although there is room for more improvement which we hope to see in the next Nothing's product.
Was this article helpful?