As exciting as the new Razer Blade 16 is, from it's predecessor. There's still lots many are yet to know about it, and that's where our review come in handy, to help potential customers know exactly what they are spending a bold above $4000 on.
No one wants to regret such investments so let's get started. The Razer 16 has a number of fantastic features, as should for its price.
It is first and foremost designed as a gaming laptop, and lives up to the name in nearly every way. This laptop, has an incredible displays and has the mobile version of the RTX 4090, a chip that powers some of the most expensive gaming laptops today.
The Razer Blade 16 boast of power enclosed in a typical solid, unibody chassis, that has the latest and greatest tech from Intel and Nvidia. It's also the first laptop to feature a dual-mode display, and its mini-LED display acts as either a native 4K panel at 120Hz or a native 1080p panel at 240Hz, is about the best you may have the pleasure of seeing this year.
Games come with enormous suite of rich texture at high details and a second-to-none speedy refresh rate.
Inspite it sophisticated design and more than impressive display, the Razer Blade 16 also doubles as a primary work laptop for graphic designers and of course it's a beast of a machine for gamers. It comes with a standard panel that makes games pop, almost literally and more intoxicating than ever.
Razer Blade 16: Tech Specs
13th Gen Intel Core i9-13950HX, 24 cores / 32 threads, 5.5GHz (max turbo), 36MB cache
32GB dual-channel DDR5-5600MHz, expandable up to 64GB DDR5-5200MHZ (two slots)
Nvidia GeForce RTX 4090 laptop GPU (16GB VRAM)
2TB SSD (M.2 NVMe PCIe 4.0), expandable up to 4TB (1+1 open slot)
16:10 UHD Plus 120Hz and FHD Plus 240Hz screen, 3.0ms, Mini LED
13.98 x 9.61 x 0.87 inches (355 x 244 x 21.99mm), 5.4 pounds (2.45kg)
95.2Whr battery
330W power adapter
Windows Hello Full HD
Two Thunderbolt 4 (USB-C), UHS-II SD Card reader, three USB 3.2 Gen 2 Type-A, one HDMI 2.1
Wi-FI 6E, Killer Wireless-AX211
Bluetooth 5.2
Windows 11 Home
Razer Blade 16: Design, Keyboard and Trackpad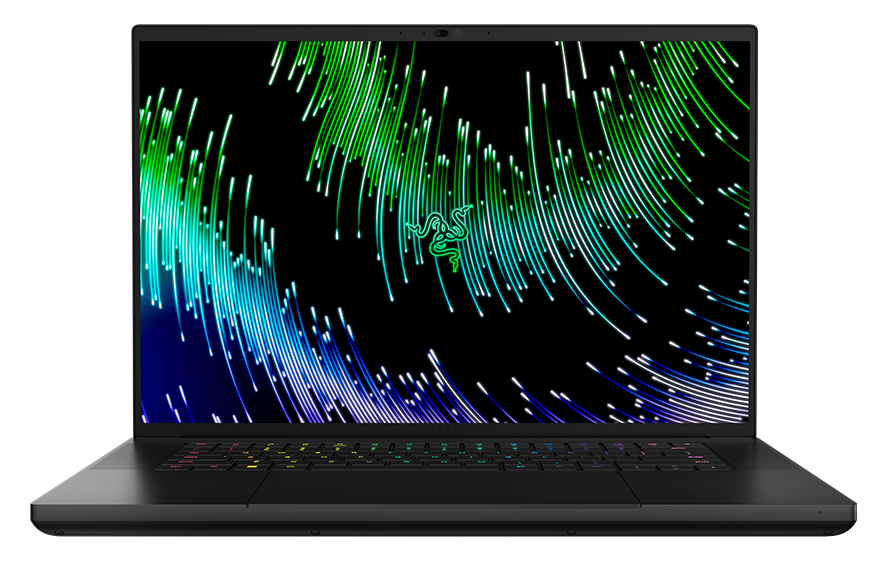 Design
The gaming pro laptop manufacturer have done a near flawless job in the Razer blade 16 design. The exterior design is a wonder and completely mesmerizing in its quietness. An attribute that most gaming laptops lack, due to excessive attempt to be loud and create an impression at first sight.
Razer portrays confidence in its design in ways that can't be ignored but strike a balance between classy and modesty. The Blade 16 available in only two colors mercury or matte-black has a T6 anodized aluminum chassis, that feels rock solid.
Though, the matte finish attracts prints and oils and is stubborn to wipe clean. It has nearly invisible flex on the keyboard deck and lid protecting the display.
Like we previously stated, it's a quiet yet confident laptop with a Razer's triple-snake badge, simply sited on the center of the lid. Except for someone who is familiar with the Razer, one may not know what laptop they are viewing when sat in front of its screen.
For weight, the blade 16 weighs 5.52 pounds, which is just average for a 16 inches 16:10 laptop but a little weightier than the Acer Predator Triton 500 SE 16-inch 16:10 models—that weighs 5.29-pound. It's certainly thinner than most monstrous laptops that includes the RTX 4090 chip.
Keyboard and Trackpad
Gaming laptops have most recently become a lot more fun with some premium types having Cherry MX switches. But, the Blade 16 though an all round "premium", laptop features a standard membrane keyboard that makes it unique in its own right.
The keys emphasize a firm and responsive feel and the trackpad is intriguingly one of the biggest you can find on a laptop, and has a satisfying click.
The touchpad is massive, and fun to use. It doesn't faltered on recording accurate swipes, pinches and other gestures and offers a soft click response with an equally smooth travel.
Display
The unique feature of the Razer Blade 16 is its ability to offer two mini-LED displays in one. You are accessible to a native 3840 x 2400 panel with a 120Hz refresh rate and a native 1920×1200 panel with a 240Hz refresh rate, and richly textured games in glorious 4K.
You are able to switch between the two modes with the Razer Synapse app. Though, it however, requires a reboot, where you get to close all your open apps, and restart the machine.
When running normal programs or work, the 16-inch, 16:10 display at 4K provides a huge, high-res canvas to support your work or activity.
The display is rated for 1,000 nits and, supports HDR1000. It also can display 100 percent of the DCI-P3 color gamut. The bottom bezel is now significantly smaller, which makes the entire laptop look more refined.
It features a modern 1080p camera that produces images and video that's worlds of course better than the previous version and comes with a physical privacy shutter that keeps you vigilant that no one is making illegal moves behind your back.
Memory and Storage
The Razer Blade 16 comes with a Core i9-13950HX, 32GB of RAM, 2TB SSD, and a top-end RTX 4090. Both storage and RAM are upgradeable as should for the price it goes for.
The 330W charger is also fairly compact, weighing just under two pounds — you could probably fit two of them into the bricks that power some bigger RTX notebooks.
Connections and Ports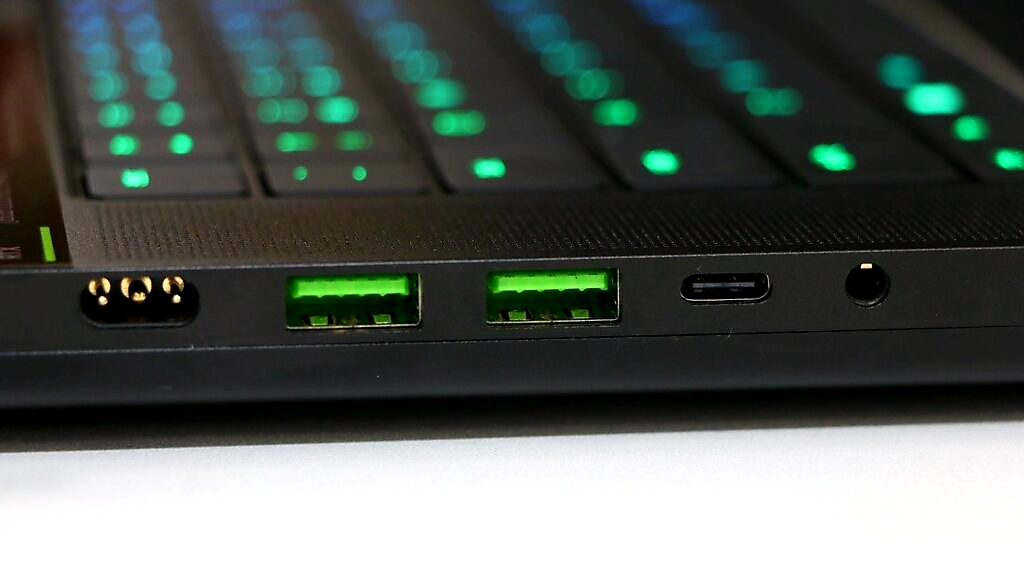 The ample port selection, includes HDMI 2.1 as well as Thunderbolt 4 and a UHS-II SD slot, as well as both types of USB ports, that should make it easy to plug in external monitors.
The port selection covers both types of USB ports so you don't need to carry around an adapter, and one of the USB-C ports offers Thunderbolt 4 support. The Razer Blade 16 is one of the fastest for transferring files.
The Blade scored an impressive 1,296 on PugetBench for Premiere Pro, during the live playback and export performance test at 4K and 8K. That's about a 50 percent increase from the Blade 15 advanced unit and actually beats the M2 Max MacBook Pro.
The Blade 16 also delivers premium audio output. The large chassis allows room for four functional speakers—two tweeters and two subs. The tweeters are positioned upward from behind speaker grills, while the subs are positioned downward from underneath each side of the system. Their sound is full, distortions-free with enough oomph, and you won't need headphones or an external speaker to enjoy music playback.
Performance
Gaming Performance
Our Razer Blade 16 test system features a Core i9-13950HX CPU and GeForce RTX 4090 graphics. The 13th-gen Core i9-13950HX features Intel's hybrid architecture with performance and efficiency cores; it has eight performance cores, 16 efficiency cores, and a total of 32 processing threads. The RTX 4090 is Nvidia's current flagship mobile GPU. The laptop also supplies an ample 32GB of RAM and a roomy 2TB SSD.
Productivity Performance
The Blade 16 got off on a slow start with and trailed other high-end gaming laptops with 12th- and 13th-gen Intel Core i7 and i9 processors.
Software and Operating System
The Blade 16 has for its home Windows 11 as a default setting. Pre-Installed software include tools like NVIDIA.
Razer Blade 16 Pros and Cons
Pros
Power, power, power
Dual-mode Mini LED 16:10 screen
All the ports you need
Sleek and portable
Cons
Very expensive
Fingerprint magnet
Battery life, unsurprisingly, sucks
Price and Availability
The Razer Blade 16 is one of the most expensive gaming laptop in today's market with price around US$2,699.99 to US$4,999.99. It's available at most major laptop retailers online and directly on Razer website.
Our Verdict
The Blade 16 is both an expensive, and exceedingly attractive laptop. But, it's difficult to be too excited about it due to its price. Yet, it DLSS 3, will bring you great performance that feels out of this world.
It is important to state that the Blade 16 gets quite hot.
Before you go…
Like we have taken our time to dissect the Razer Blade 16 in our article. It is highly recommended especially for those who don't see the price as a problem, it promises great results for your money.
FAQs
When was the Razer Blade 16 released?
The new Blade 16 and Blade 18 gaming laptops was released on, February 8th and available for sale.
What are the specifications of the Razer Blade 16?
Though, the Specifications of this laptop are already captured above. Below are the summary:
2.2 GHz Intel Core i9 24-Core (13th Gen)
32GB DDR5 RAM | 2 x 1TB PCIe 4.0 SSD
16″ 3840 x 2400 120 Hz Mini-LED Display
NVIDIA GeForce RTX 4090 (16GB GDDR6)
1920 x 1200, 240 Hz Gaming Mode
USB 3.2 Gen 2 | Thunderbolt 4 | HDMI
Wi-Fi 6E | Bluetooth 5.3
Quad-Speaker Audio
What is the battery life of the Razer Blade 16?
Razer Blade 16 laptop seems to be more focused on Performance and trades it better life for it. At average use, you can get over 5 hrs from it.
Is the Razer Blade 16 worth the investment?
The Razer Blade 16 is undeniably fast and premium in every way, going by that it seems worthwhile but it's advisable to weigh your priorities in a laptop before investing in the Blade 16 as it's a personal final decision.
How much does the Razer Blade 16 cost?
It price rallies between US$2,699.99 to US$4,999.99
What are the best monitors for the Razer Blade 16?
The Razer Blade 16 has an intriguing display, but for something a bit bigger, the Samsung Odyssey G6 is a great option that isn't overly expensive. It offers a sharp Quad HD panel with a super-smooth 240Hz refresh rate, and the 27-inch panel is bound to give you a much more immersive experience.
Why is Razer so expensive?
It's simply the brand, claims are because it's made by the world's best PC hardware manufacturer.
What laptop has a snake logo?
The triple-headed snake trademark identifies the m manufacturer Razer and is one of the most recognized logos in the global gaming and esports communities.
Is Razer laptop better than Apple?
Between these two laptops, the MacBook Pro (2023) will be better because it runs more efficiently.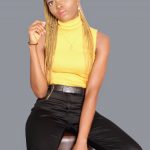 Was this article helpful?