Answering the question "what is Dell OptiPlex" is paramount in this article. Though, it can of course be summarized in one sentence but that will be too vague for anyone who basically knows nothing about Dell OptiPlex system prior to now.
Hence, this article will give you an in-depth knowledge and analysis on the subject, as well as discuss it features and price to those interested in purchasing this powerful information technology device. Now, let's get to it.
What is Dell OptiPlex?
First, Dell is one of the many trusted information technology brand that is committed to designing, developing manufacturing and marketing gadgets, gears, and devices that cater to the needs of tech users both personal and commercial across the globe.
While OptiPlex on the other hand is simply a type of business-oriented desktop and all-in-one computers that is tailored specifically for corporate enterprises, healthcare, government, or education to cater for the diversified needs and huge data required in these areas adequately.
Dell OptiPlex is the name given to OptiPlex developed, designed and manufactured by Dell company. The brand had made it first Optiplex markets release in 1993 and the systems had typically contain Intel CPUs, beginning with Celeron and Pentium but more recent models come standard with the Core microarchitecture (i3, i5, i7, i9).
Also, Dell OptiPlex are made with more business-oriented components, that include: Gigabit Ethernet, DisplayPort, Tool-less Chassis and software that offer data protection utilities, management features etc., all of which often come standard in a Dell OptiPlex system.
What to know about Dell Optiplex
Interestingly, Dell is a name to count on when business computers are the aim. The Dell OptiPlex is among the few best out there and has always been the brand's flagship since its introduction in 1993.
Dell had since inception released countless OptiPlex models and effects changes to models in every 12 to 18 months, in an obvious goal to stay on pulse bringing us to speed with the latest trends in technology.
Though more recent OptiPlex releases have rather little noise, but like everything tech, it is better, slimmer and tougher in both delivery and appearance. Dell's OptiPlex models are enhanced with hardware upgrades.
Dell Optiplex specifications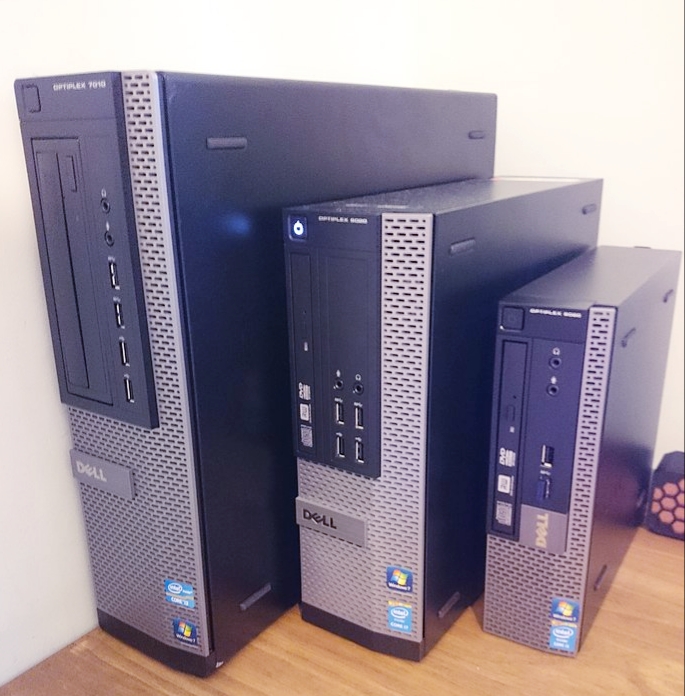 #1. Performance
For Dell's newer generation OptiPlex to provide optimum performance, newer intel processors have been installed, integrating up to Core i9, RAM is also improved on to accommodate larger chunks of data, expanding up to 64GB with a slot for M.2 2280 SSD also added to the internal bay.
#2. Components
This computer also comes standard with other internal and external components such as, Nvidia or AMD, display ports, Intel graphics card, Windows professional edition, data protection software, and these components and softwares can be customized for customers before products purchase.
In addition, Dell has versatile form factors – tower, small form factor, micro form factor, All-in-One (AIO), etc. It has continually adapted with the latest technology for improved performances.
Dell's OptiPlex Desktops are among the world most intelligent and secure commercial PCs that are now a lot easier to manage, with a single BIOS for all-in-ones and a single BIOS for towers.
Dell OptiPlex form factors
#1. All-in-One
Dell OptiPlex all-in-one allow for comfortable office work, and follows a more modern and professionally sleek new design and style, as well as built-in intelligent collaboration & security features, plus a pop-up EMZA webcam with optional User Presence Detection.
#2. Micro
The Dell OptiPlex micro, provides more space management to your workspace with its ultra-compact desktop, that offers optional single-cable Type-C power delivery and flexible set-up options.
#3. Small form factor
Also, Dell's OptiPlex small form factor strikes a portmanteau between compact size and powerful performance in a desk-friendly design.
#4. 3000 Thin Client
The 3000 thin client is designed to seamlessly connect to virtual workspaces optimized for Dell Cloud Client Workspace solutions.
Dell Optiplex price
For current Dell Optiplex models, the start price for this business-oriented desktops begin at $649.00.
Before you go…
Dell OptiPlex system is a must have for large organizations who will like to keep company's data exclusive, secured, comprehensive and accessible.
Plus, it allows management keep a close eye on the day-to-day activities of the organizations as well as their progress levels.
Was this article helpful?