Charging phones, laptops and other devices have to be done with a good working charger. But, when a charger is faulty perhaps broken or frayed etc, a charging mission becomes annoying, frustrating and above all dangerous.
So, what do you do in a situation whereby you have an effective charger and wouldn't want to discard it just yet. There are a few fixes which can help you continue using your charger and can be done at home.
Note: We advise you get a new charger, the tips below might expose your charger, phones, laptops or other devices to greater risk if the charger conditions are very poor. Please, beware of electrocutions in serious cases.
Reasons Why a Charger is Faulty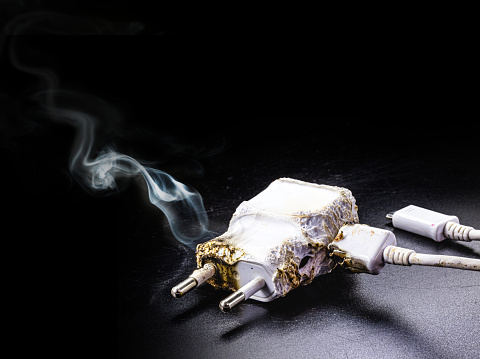 The wall socket is off or damaged.
A damaged to the device power port.
Improper connectivity : Your charger may be wrongly connected
Dirty: For most persons, chargers are the least thing on their minds that needs cleaning and it may be too dirty to make the connection due to accumulation of dusts and dirts.
Poor Light Voltage: You might think your charger is faulty, when it really isn't. Your charger might just not support a low voltage power and at such isn't charging your device. You should ensure that the power source is right for your charger to avoid spoiling it or your device in extension.
But it may also be because the fuse or socket, rather than the charger, isn't functioning.
Steps to Fix a broken Charger
Some steps to fixing a charger might require a minor adjustment while some might demand an extra rewire depending on the charger's fault. Generally, below approaches should work on any device without needing an electrician.
How to Fix a Broken Charger
Be certain that the outlet is turned on. Most American homes use switched surge protectors ( a light switch that controls the wall outlets, or a breaker). You may need to reset a tripped breaker
Connect cables correctly
If cables aren't properly connected your device might not charge. To fix this, unplug all the cables from the system i.e (unplug the cord from both the charging port and the device), wait a few minutes, then reconnect the cables carefully and accurately and ensure that everypoint is working efficiently. Once connections are secure and check to see if the problem has been fixed.
Look for lights
Depending on the device, a light might be an indication eg – A broken Mac charger, laptop computer and and portable battery packs, would require the status light to still be indicating. The same goes for status lights in laptop computer chargers and portable charger battery packs.
Reboot the charging device
The device may be overheated, dull or experiencing some technical problems, and this may affect the way it charges, so rebooting the device may helps with charging detection problems.
Try Different outlets
Outlets are robust but can fail. To confirm an outlet works, check out our multimeter tips below.
Check for damages on the charger
Your charger might be partially ripped or exposes a bare wire, a stripped insulation, or wire shielding, which could be the source of the problem. Thought, you can attempt to, plug the cable in, wiggle the cable at both ends and observe If the charger works as the cable is being moved then, you'd know that the cable's copper wiring is damaged and will require a new replacement.
Alternatively though, you can instead wrap an electrical tape to the wire, where it is partially ripped or frayed. That may fix the problem temporarily until you get a new cable.
Clean Your device's charging port
Your device's charging port can easily collect dust and grime, and that can cause issues with the way your charger functions.
Check the components
Temporarily remove the adapter, outlet splitter, power strip, or surge protector, and any extra components so only the charger is plugged into an outlet known to work. If the outlet works, but the charger won't activate, the problem isn't with the wall socket.
If the charger works when plugged into the wall, the problem lies in one of the removed components. Add the other pieces back one by one until the system fails, but don't stop there. Try adding the pieces in a different order or a different place.
Was this article helpful?