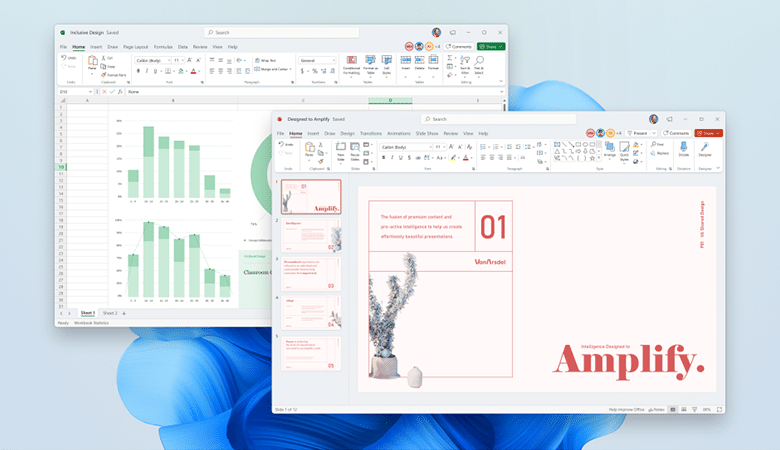 We will be guiding you on how to get the new Microsoft Office design on your PC as Microsoft has announced that it has started rolling out the new design of Office suite 2021 to users. The Office now matches Windows theme by default and all themes has received an update.
Features of the new Microsoft Office design
Users can now experience the visual refresh in whichever Office theme they prefer, including black — Word Dark Mode enabled; white, colorful, or dark grey.
The Quick Access Toolbar is also now hidden by default. To display, users have to right-click the ribbon or click the Ribbon Display Options icon > click Show Quick Access Toolbar.
How to get the new Microsoft Office design on Windows 10 & 11
The visual refresh can be turned off or on using the Coming Soon feature, located at the top right corner of the app.
In Word, Excel, PowerPoint, or OneNote, Click the megaphone icon to open the Coming Soon pane, read more about the visual refresh changes, then use the toggle to move between the new and current interface, and then apply the setting to all the Office apps.
N/B: The Coming Soon feature is not available in Access, Project, Publisher, or Visio. So, If you turn on the visual refresh in any of the four apps above, it will also be available in Access, Project, Publisher and Visio.
For Windows 10 users, This visual update became available automatically for those running the current channel version 2110 and build 14527.20226 or later. If you don't see the update, you will need to restart any Office app in order to see the visual refresh. if you do not see the megaphone icon at the top right corner then the update is not available to you yet.
The update is available for all Windows 11 users.
We trust you liked this article, please subscribe to our YouTube Channel for our videos and you can also be a part of our Facebook family.