Oculus Quest 2 Black Screen Of Death is an error that occurs while using Oculus Quest or Oculus Quest 2. Even though Oculus Quest and Oculus Quest 2 are the best virtual reality headset out there, they are still prone to technical issues like the black screen of death which is the common error.
This error comes up as a black screen, the screen is totally black or sometimes lit up but with a blank screen with the Oculus Quest logo appearing before it finally slips into black screen of death.
There are many reasons black screen of death error occurs on Oculus Quest. It could be because the battery is dead, there is a corrupt firmware, might be a hardware issue, or an update error. If the batteries are dead or not charged enough, the headset won't turn on and black screen will occur on Oculus Quest.
Also if a firmware update is stuck or has been interrupted, the black screen will appear on Oculus Quest. You update might get stuck if you changed your Oculus password and Oculus can't log in, update will get stuck and the screen will go blank. Also a damaged hardware can be the issue. Now we know the causes, let's see how to fix Oculus Quest 2 Black Screen Of Death error:
Step #1. Charge your Oculus headset
If headset has no charge, only the black screen will appear when you try to turn it on. Always use a compatible USB charger to charge the headset. It's pertinent to use a compatible charger to enable the headset charge properly.
Oculus charger outputs 2A, if you use a lower amperage charger, the headsets will not charge properly and when next you are using it, the black screen of death displays.
Step #2. Check the Oculus Quest app
Use your device to access the Oculus app, try logging in if it doesn't log in automatically. Then check if the app sees your headset.
Try launching a game from the app, after launching turn on headset and see if the black screen of death is still there.
A boot loop problem can also be the cause of the black screen of death error.
Step #3. Check if the headset want to update
If after charging headset and problem still continues then check for updates. Leave headset turned on and plugged in, leave it for 30mins and observer.
If headset attempts to update then leave it plugged into power and allow it to finish its update. Then return to regular operation, the update will fix the issue
Step #4. Open an app
When faced with this situation, there might be a particular app responsible for this.
Press the menu button on your left controller, then press the Oculus button on the right controller. When you have access to the menu, open an app that's not the previous one you opened and see if the black screen doesn't occur .
Step #5. Check Proximity Sensor
There is a proximity sensor between the lenses on your headset. Try covering the sensor with your thumb and see if Black Screen Of Death occurs.
Try drying the sensor with the microfiber cloth. You also have an option to disable the proximity sensor (check)
Tip: If black screen of death goes away when you cover the sensor with your thumb but doesn't go away when you are wearing the headset. Then check for gaps or damages that could allow light to pass through the spacer.
Step #6. Hard reboot
If black screen of death occurs when you press the power button, press and hold the power button for 10seconds this will result in a hard reboot on Oculus Quest to fix the issue.
Or use the bootloader menu to boot Oculus Quest:
Pr

ess and volume down and power button for 10 seconds

Use the Volume button to highlight Boot Device
Then press the power button to reboot successfully
Step #7. Factory reset Oculus Quest/Oculus Quest 2
If all plan has failed, this should be the last resort to fix the black screen of death error.
Factory Reset removes all data from the headset and returns it to the original factory settings. This means you will redownload everything so be sure you have tried other methods before doing this:
Press and hold Volume down and power button for 10seconds
Highlight Factory Reset using the volume buttons
Press the power button
You can use the app also to do a factory reset: Go to App > go to Settings in the bottom menu > look for the headset connected to your phone and select it > click on More settings > tap Factory Reset and proceed with resetting.
Also consider that the issue might be from the hardware components, for that contact Oculus for additional assistance to repair/replace the headset.
FAQs
Why is Oculus Quest not Connecting to Wi-Fi?
If Wi-Fi is not working, use Oculus app to disconnect from Wi-Fi and reconnect to your network.
This article was first published on November 1, 2022 4:03 p.m. WAT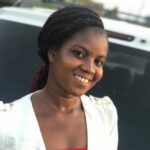 I am an experienced tech and innovation writer. It's been 2 years+ I started writing at Terecle, covering mostly Consumer electronics and Productivity. In my spare time, I enjoy reading and learning the latest happenings around the tech ecosystem.
Was this article helpful?