We all love Snapchat, even though it's not as popular as other social media apps but Snapchat is fun. The more you use the app, the more you discover interesting features about the app.
What is Snapchat Score?
Snapchat Score is one of those interesting features that makes using the app interesting. Snapchat Score is used to indicate how active and social you are on Snapchat. These scores are based on certain factors though not outrightly spelt out by Snapchat but we know it's based on how active a user is. The more active you are on Snapchat, the higher your score.
According to Snapchat;
Your Snapchat score is determined by a super secret, special equation that combines the number of snaps you have sent and received, the stories you have posted and few others.

Snapchat
From the above, we can deduce how Snapchat scores users. Based on the number of snaps you have sent and received, stories you have posted, discovered videos you have watched, number of friends you have, number of users you have added, maintaining the snap streaks with friends and some other factors.
You can find your Snapchat score and that of your friends on your profile as it helps you keep track of your activeness on Snapchat.
How to find your Snapchat score
Launch Snapchat app
Go to Profile icon at the top left corner of the app
You will find your snap score under your name and avatar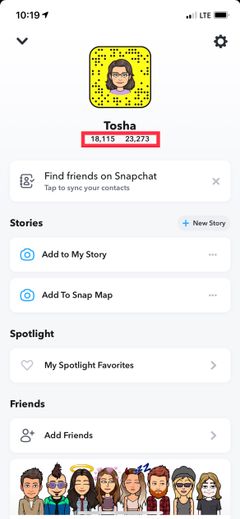 Tapping on your Snapchat score reveals two numbers; the number on the left is the number of snaps you have sent since creating your account while the number on the right indicates number of snaps you have received. Adding these two numbers does not give you a Snapchat score, it's just statistics.
How to find someone's Snapchat score
You can see a friend's Snapchat score as well:
Launch Snapchat app
Go to Profile icon at the top left corner
Scroll down and tap on "My Friends"
Tap on the icon of the friend you want to check their snap
You will find their snap score below their username and avatar
Snapchat score is really for the fun of it, some Snapchatters see it as a way of competing with each other but a little bit of healthy competition makes using Snapchat interesting. It keeps users engaged and helps them track their progress on the app.
How to increase Snapchat score
The only hack to increasing your Snapchat score is to remain active on Snapchat. Stay active on Snapchat;
Send snaps often to friends
Receive snaps from friends
Add friends
Open unread snaps
post on your story often
maintain snap streaks with friends which can earn you the best friend emojis if you hit snap streak with a friend
open snap regularly and daily
Check snaps often to track progress
As long as you are active on Snapchat, your score keeps increasing. Scores can run into thousands.
How not to increase Snapchat score
No points for sending and receiving normal message on Snapchat. You only send and receive snaps
Watching friends stories does not attract scores. Posting yours will increase scores
Being inactive, even though it won't reduce already existing scores it won't increase it either. Although coming back to Snapchat after staying off for a long time will earn you 6 points
Sending snaps to group messages does not increase scores
There are no cheat codes to increasing Snapchat scores, any app or website promising you that is a scam. Don't spend money and time on any of them and you have to be careful about these apps and websites because they might have spyware to gain access to vital information about you.
Beware of these apps/websites and only download Snapchat from the authorized app store of your device.
You gain Snapchat scores by remaining active. You can send snaps with friends who share in your goals of increasing Snapchat scores, Sending them multiple snaps will increase your scores.
Also adding a celebrity Snapchat account to your friends list can raise your Snapchat score by one point. It's a risk worth taking as these celebrities will not add you back but you interacting with their account increase your scores.
Now we know about Snapchat scores, one will ask what's the benefits of increasing Snapchat scores. Initially there was a benefit which was unlocking trophies.
Trophies were a sort of badge systems to reward users for using the app frequently and creatively. But now the feature no longer exist. You just increase Snapchat scores to keep being active and even meet new friends on Snapchat.
If you have been using Snapchat but your scores does not increase, here's what to do:
Update the app to the latest version
It might be a glitch from Snapchat, wait a few mins and restart app.
Restart phone in case
Talk to Snapchat support team, they will definitely fix the issue.
That's much we know about Snapchat scores and how to increase them. Snapchat is fun with many interesting features if we keep using it.
This article was first published on July 26, 2022 7:50 p.m. WAT
Was this article helpful?