There are times when we try to call someone but, only to get the "User Busy" alert and surprisingly the call gets through after a few trials. This guide will help you get a better understanding of what "User Busy" on your iPhone is all about.
What Does the "User Busy" Message Mean?
The "User Busy" message you see when you call someone on your iPhone indicates that the person you are trying to call is currently on another call', probably a long call if you kept calling for a long time.
What To Do When You Get The "User Busy"Message
Sometimes a user might toggle on "Do Not Disturb" if not on an actual call, so it's best for you to wait for sometime and then try to call back. But, you can also try texting them, just to be sure the person is busy on a phone call at the moment, hopefully you'll get a response.
How To Set Up A User Busy Message for yourself
If you ever want to show the "User Busy" message, you can do it quite easily just by turning on "Do Not Disturb" on your iPhone.
On iOS 15:
Open the Settings app.
Choose Focus.
Select Do Not Disturb.
Customize how you want notifications to be sent to you.
N/B: You can also turn it on from the Control Center by opening it and going to Focus, then turn on Do Not Disturb.
On iOS 14:
Open Settings.
Go to Do Not Disturb.
Turn on DND or set a schedule of when to turn it on.
N/B: You can also do this from the Control Center by choosing the crescent moon icon in the panel.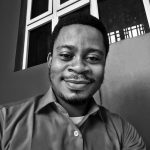 I've been with Terecle right from inception in 2021, covering a wide range of tech topics, including consumer electronics, social media, gaming, etc.
I earned a BSc. Computer Science, and lots of tech professional certifications. Prior to working at Terecle, I worked as an IT support and System Administrator for lots of MSMEs businesses.
Was this article helpful?